The Academy also releases statement saying it is "investigating the circumstances" behind the mix-up.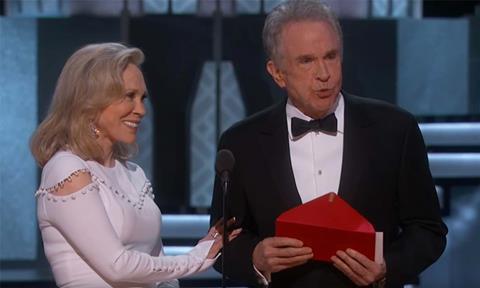 The Academy and PwC issued statements on Monday following the best picture blunder at Sunday's Oscars.
It is the second apology by PwC, with the accountancy firm naming partner Brian Cullinan as the person responsible for the incident, in which a back-up envelope revealing the previously announced best actress winner Emma Stone was mistakenly handed to Warren Beatty before the climactic best picture presentation.
Beatty opened the envelope and looked confused before handing it to co-presenter Faye Dunaway, who declared La La Land the winner. Several minutes later show organisers interrupted the winners' speeches and Moonlight was declared the rightful best picture winner.
It also emerged on Monday that minutes before Cullinan gave the wrong envelope to Beatty, the US board chairman and PwC managing partner tweeted a photograph of Oscar winner Stone backstage.
PwC's second statement, which followed an earlier apology for the mix-up, read: "PwC takes full responsibility for the series of mistakes and breaches of established protocols during last night's Oscars. PwC partner Brian Cullinan mistakenly handed the back-up envelope for actress in a leading role instead of the envelope for best picture to presenters Warren Beatty and Faye Dunaway.

"Once the error occurred, protocols for correcting it were not followed through quickly enough by Mr. Cullinan or his partner.
"We are deeply sorry for the disappointment suffered by the cast and crew of "La La Land" and "Moonlight." We sincerely apologize to Warren Beatty, Faye Dunaway, Jimmy Kimmel, ABC, and the Academy, none of whom was at fault for last night's errors. We wish to extend our deepest gratitude to each of them for the graciousness they displayed during such a difficult moment.
"For the past 83 years, the Academy has entrusted PwC with the integrity of the awards process during the ceremony, and last night we failed the Academy."
Academy statement
The Academy statement read: "We deeply regret the mistakes that were made during the presentation of the Best Picture category during last night's Oscar ceremony. We apologize to the entire cast and crew of La La Land and Moonlight whose experience was profoundly altered by this error.

"We salute the tremendous grace they displayed under the circumstances. To all involved  —  including our presenters Warren Beatty and Faye Dunaway, the filmmakers, and our fans watching worldwide  —  we apologize.
"For the last 83 years, the Academy has entrusted PwC to handle the critical tabulation process, including the accurate delivery of results. PwC has taken full responsibility for the breaches of established protocols that took place during the ceremony.

"We have spent last night and today investigating the circumstances, and will determine what actions are appropriate going forward. We are unwaveringly committed to upholding the integrity of the Oscars and the Academy of Motion Picture Arts and Sciences."