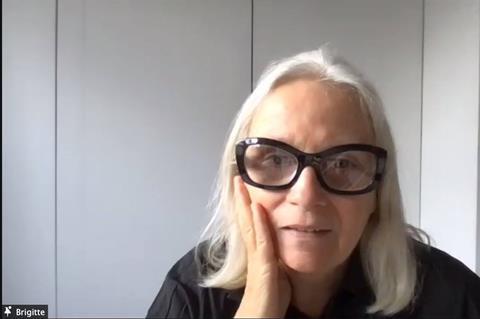 New York-based French photographer Brigitte Lacombe has spent more than 40 years on the sets of directors such as Federico Fellini, Martin Scorsese, Steven Spielberg and Lynne Ramsay as well as capturing actors including Meryl Streep and Leonardo DiCaprio.
She opened up about her career – also spanning photojournalism and projects for organisations including the Lincoln Centre Theatre, New York Film Festival and Doha Film Institute (DFI) — in an online talk for the DFI's Qumra event this week, moderated by Italian journalist E. Nina Rothe.
Lacombe said her entry into photography was a Nikon F, which she received as a present from her father when she was just 17. "I immediately declared that I would become a photographer..I really wanted to start my life. My raison d'être, my purpose in life, was to be a photographer."
She became an apprentice at Paris-based Elle magazine, and her first major assignment was to cover the 1975 Cannes Film Festival. "That changed my life," she said. "That started my real involvement with documenting film, my love of actors and the world of cinema."
While at Cannes, she met Donald Sutherland and Dustin Hoffman, who both invited her to serve as the on-set photographer on their upcoming projects; Federico Fellini's Casanova and Alan J. Pakula's All The President's Men, which both shot in 1976. "To start [my career] with Fellini was pretty extraordinary," Lacombe said, noting that the two sets were "very different but both represented filmmaking at its best.
All The Presidents Men took Lacombe to the US, where she met Steven Spielberg, who was just about to release Jaws. Spielberg invited her to photograph on the set of 1977 film Close Encounters Of The Third Kind. Lacombe revealed the director took her family name for the character of professor Claude Lacombe, played by Francois Truffaut, because he needed a strong French surname.
It was while working on Kramer Vs Kramer in 1979 with Hoffman that Lacombe met and started a friendship with Meryl Streep, who she continues to photograph regularly. "All I wanted to do was photograph her," she recalled of those times. "I had to restrain myself and do it sparingly."
It was Streep who provided Lacombe with one of her favourite photographs when she captured the actress and her co-stars Glenn Close and Vanessa Redgrave on the set of the 1993 film House Of The Spirits, in full period costume but clutching polystyrene coffees cups.
"These are the moments that I love to look for," Lacombe said. "I feel like I have succeeded on a film set when I have the actor in character, but with some elements that put them in real life." Lacombe further demonstrated this with a memorable black and white shot of Leonardo DiCaprio in costume on the set of Scorsese's Gangs Of New York, with a digital camera held high above his head to capture co-star Daniel Day-Lewis in action.
An essential partnership
Lacombe has developed what she described as a "long and deep relationship" with Scorsese, and said that he is "one of the most important people I've worked with for many years."
She explained how she has been privileged to become part of his "core group" and is given access to his film, documentary, commercial and other projects — something that gives her great artistic freedom. "If you come at the invitation of the filmmakers, then your presence is not questioned by the actors or the rest of the team."
That she has been allowed to "just be present" has enabled her to capture some truly intimate shots, even amongst the hustle and bustle of a busy set, such as a quiet moment of conversation between DiCaprio and Scorsese during a huge crowd scene in The Aviator in 2004. Yet, she noted that working on set requires a completely different approach to the formal portraits she does in her New York studio.
"On a movie set I have absolutely no control, and I have to catch whatever I can. You can spend hours on a set and nothing is happening for you, and it's pretty despairing," she admitted. "And then suddenly there's this moment, like the one between Leonardo and Marty. And that might be the only thing you get that night. You have to be super patient and you have to love being there.
Lacombe also revealed that working on the 2019 production The Irishman which reunited Scorsese with stars Robert DeNiro, Joe Pesci and Al Pacino was an emotional experience. "I feel very attached to them."
Individual style
As well as Scorsese, Lacombe has developed close friendships with many of her other subjects, with whom she works with time and again.
Director Wes Anderson, she said, is "always super chic. He has his own elegance and style." Spike Jonze is another filmmaker she finds "really interesting. I love him as a filmmaker and as a person." Another favourite is Ryan Coogler, who Lacombe first met when he was in Cannes in 2013 with his first film Fruitvale Station. The photographer credits him, along with fellow filmmaker Ava DuVernay, as being someone who really cares about the people in his community, and "giving chances to those people they believe are talented."
UK filmmaker Lynn Ramsay, who Lacombe described as "a very exceptional woman", is another close personal friend. Having worked on Ramsay's projects including We Need To Talk About Kevin (2011) and You Were Never Really Here (2017), Lacombe says she was "surprised" when the filmmaker wanted to make a documentary about her.
The resulting film, 2019's documentary short Brigitte, which is framed around an intimate conversation between the filmmaker and photographer, proved an interesting experience. Ramsay and her director of photography Thomas Townend set up camera tracks across the length and breadth of an abandoned warehouse, and filmed Lacombe as she undertook a real film shoot. Yet, recalled Lacombe, "I was absorbed in what I was doing and was not aware of the filming."
Watching herself working on screen also provided something of a revelation, said Lacombe. "I realised when I was being filmed photographing Lynn, I direct a lot!"
Even though the pandemic has proved a logistical challenge for Lacombe, who had been constantly working around the world, she has no plans to put down her camera. "My work and my life are the same thing," she said. "There is absolutely no difference." As she reflected over a career spanning almost five decades and thousands of photographs — and many of individuals like Fellini, Truffaut and Philip Seymour Hoffman who are no longer with us — Lacombe revealed what she loves the most about her profession. "The extraordinary thing about photography is that it allows you to go back to an exact moment. It's very powerful."