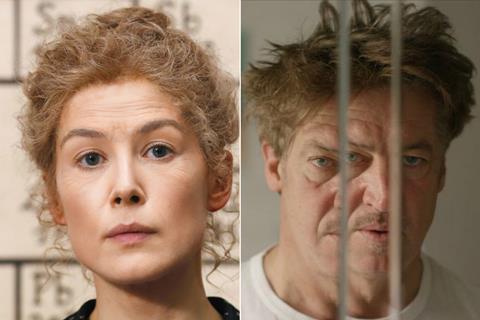 Marjane Satrapi's Marie Curie biopic Radioactive and Gregory Kirchhoff's Germany comedy Baumbacher Syndrome will bookend the ninth Majorca International Film Festival (EMIFF), which will take place both physically and online from October 23-29.
Radioactive debuted at Toronto 2019, and stars Rosamund Pike and Sam Riley. French-Iranian filmmaker Satrapi was previously announced as the recipient of the festival's Vision award, while she will also be honoured at the centrepiece gala tribute and screening.
Baumbacher Syndrome stars Tobias Moretti, whose credits include Terrence Malick's A Hidden Life, and Elit Iscan, who starred in Deniz Gamze Ergüven's Mustang, in the story of a radio host who gains fame after waking up with an unusually deep voice.
The EMIFF programme includes 25 feature-length films, with four European premieres – Adrian Martinez's US drama iGilbert, Sevgi Hirschhäuser's Turkish feature Toprak, Mohamed El Badaoui's Moroccan film Lalla Aïcha, and Cam Cowan's US documentary Opera.
Lalla Aïcha is one of 11 titles in the narrative feature competition section, alongside Carmen Stadler's Swiss drama Sekuritas; and Fernando Trueba's literary adaptation Forgotten We'll Be, which closed San Sebastian Film Festival last month.
Opera is one of 10 non-fiction features in the documentary competition, five of which are in a 'Made In Baleares' sub-section for films produced and directed by filmmakers from the Balearic Islands.
The festival is also running an out-of-Competition drive-in cinema strand of four titles: Satrapi's Persepolis, Steven Spielberg's Jurassic Park, Mike Mitchell's Trolls, and Roger Michell's Notting Hill.
An online talks programme includes sessions on the future of distribution, new international co-production strategies, and a masterclass from casting director Nancy Bishop.
Majorca Film Festival 2020 programme
Feature Film Official Competition
Baumbacher Syndrome (Ger)
Dir. Gregory Kirchhoff
Zoro's Solo (Ger)
Dir. Martin Busker

iGilbert (US)
Dir. Adrian Martinez

Toprak (Tur)
Dir. Sevgi Hirschhäuser

Sekuritas (Switz)
Dir Carmen Stadler
It's Gonna Be Fine (Ger)
Dir. Christian Werner
Woman of the Photographs (Jap)
Dir. Takeshi Kushida
The Waiter (Gr)
Dir. Steve Krikris
Lalla Aïcha (Mor)
Dir. Mohamed El Badaoui
Radioactive (UK)
Dir. Marjane Satrapi
Forgotten We'll Be (Col)
Dir. Fernando Trueba
Documentary Feature Official Competition
Mujereando - El quejio de una Diosa (Sp)
Dir. Carmen Tamayo
Opera (US)
Dir. Cam Cowan
Helmut Newton The Bad and The Beautiful (US)
Dir. Gero Von Bhoem
That Click (It)
Dir. Luca Severi
Marcel Duchamp Art of The Possible (US)
Dir. Matthew Taylor
Documentary Feature Made In Baleares Official Competition
Andreu Muntaner i Darder. From fossils And Photographs
Dirs: Ángela García, Albert Herranz
Doing the Americas
Dir: Pedro Salom Caldés
Revealing Mario
Dir: Simó Mateu
The Most Dangerous Man In Europe. Otto Skorzeny's After War,
Dirs: Pedro de Echave García, Pablo Azorin, Williams
Dorothea Y El Myotragus
Dirs: Nuria Abad, Marta Hierro