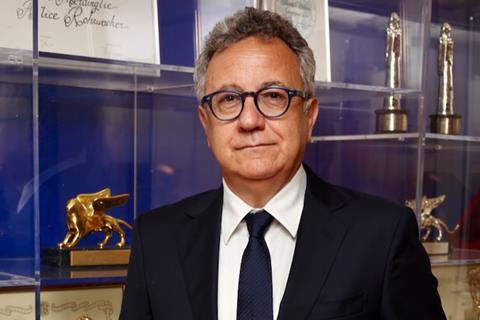 Rai Cinema is investing €85m ($86.9m) in 80 new projects this year, according to CEO Paolo Del Brocco.
Del Brocco was speaking to Screen as the film production and distribution arm of Italy's state broadcaster gears up to premiere three films in the Venice Film Festival's main competition. In total, Rai Cinema has 22 films debuting in all Venice sections including Horizons.
"Obviously, the overall production value of the films is higher, given that Rai Cinema's investment covers only a part of the movies' financial requirements," said Del Brocco. "We are now examining our 2023 projects and have a lot in the pipeline, which we are evaluating and choosing."
Rai Cinema backs just under half of Italy's films annually. Its distribution arm 01 Distribution works with both its own and third-party productions.
Rai Cinema has backed the production of three titles in competition this year at Venice: Susanna Nicchiarelli's Chiara, Gianni Amelio's Il Signore Delle Formiche, which are both being released in Italy by 01, and Andrea Pallaoro's Monica.
01 Distribution, meanwhile, is releasing Florian Zeller's competition title The Son in Italy.
"We also have other films directed by Saverio Costanzo, Gianni Amelio, Uberto Pasolini, Roberta Torre, Edoardo De Angelis and many first and second works as usual for us," Paolo Del Brocco said of Rai Cinema's 2022 slate.
Del Brocco, who joined Rai in 1991 and became managing director of Rai Cinema in 2007 and CEO in 2010, said he believed the quality of Italian films in Venice is extremely high this year. "It's a very powerful vehicle through which Italian cinema gets showcased to the world," he said, noting that in recent years the Golden Lion has eluded Italian productions.
New talent
As part of Italy's public broadcaster, Rai Cinema looks for financial returns for the films it backs, but also tries to produce films that create value for the industry and broaden public access to film, said Del Brocco. The company also has a "cultural responsibility" to "promote our identity and our country through our films" and of promoting Italian screenwriters and filmmakers. "Many big-status directors started with us at the beginning."
The Italian film industry, he said, needs to grow. "We need to create work positions, foster new talent and generate opportunities. If we don't do that, we won't discover the new Matteo Garrones or Paolo Sorrentinos – the new talents and producers that our industry needs."
A slew of Italian production companies has been acquired by international investors in recent years. Wildside and Lux Vide are part of Fremantle, Cattleya is owned by ITV Studios and Grøenlandia Group was recently acquired by Banijay.
Del Brocco said he welcomed international companies "investing in Italy and hiring Italian workers," while benefitting from local tax credits and experience. He said this shows the attractiveness of the Italian industry.
"It's a pity that we don't have a large Italian company that carries out acquisitions in our country and abroad. Hopefully, it'll happen in the future," he added.
Rai Cinema supported films by 68 female directors between 2019-2021, a significant increase according to Del Brocco. "I think it's a trend that will grow more and more in the future." He was quick to point out, however, that his team "evaluate the potential of the projects and not the gender." No comparable figures for previous years were available.
Theatrical support
Del Brocco recently joined forces with Medusa chief Giampaolo Letta in publicly calling for government intervention to support Italy's beleaguered exhibition industry. Italian audience levels and box office takings dropped 65% in the first four months of 2022 compared to the same period in 2019, according to distributors' association Anica - Unione Editori e Distributori Cinematografici.
Theatrical releases "generate value" and "forge identities," and have substantial financial impact on the cinema industry, Del Brocco said.
A damaged theatrical sector would create a "disconnect between the production and the audience that should enjoy the film in the theatre. The whole value chain would be irreversibly damaged and production would also be affected in the long run," he added.
Redressing the situation requires strengthening the windowing system in Italy as well as differentiating tax credits between theatrical and platform releases, Del Brocco noted, citing a four-point plan drawn up with Medusa's Letta. In addition, distributors' tax credits need be maintained, and streaming companies need to commit to purchasing a predetermined number of films annually.
"New OTT players are welcome in this industry because they contribute to increasing the employment level and lead to new productions, but they have to be conscious of their role in the industry," Del Brocco said. "We are not only a market, but we are also a country with a strong culture in which the film industry contributes to our identity… For these reasons, I think that a correct relationship between streamers and the film industry is fundamental."