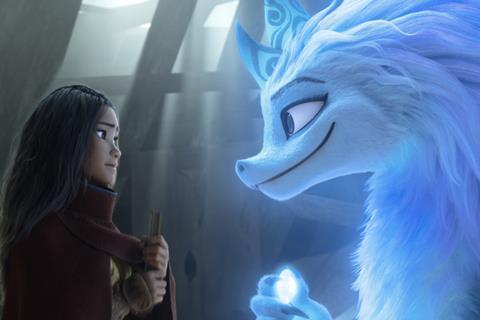 'Raya And The Last Dragon' tops key markets
Disney animation Raya And The Last Dragon opened at number 1 in key markets including Russia and Australia as part of its estimated $26.2m global opening, comprising $8.6m for North America and $17.6m in international. This tally included $1.8m in Imax takings.
Top result outside North America was China, where the animated fantasy began in third place behind two local titles with $8.4m. Next comes Russia with a chart-topping estimate of $2.8m, boosted by the Monday holiday there. Australia launched with $1.2m, and South Korea with $1.0m, where the film landed in second place behind Korean-language US film Minari (see below).
Disney's film topped the box office in both Taiwan and Thailand, with estimated takings of $600,000 and $500,000 respectively. Raya And The Last Dragon also opened at the top of the chart in Indonesia, Singapore, Spain, Finland, Sweden, Iceland, Qatar, Oman, United Arab Emirates, Ukraine, Ecuador, Bolivia, Trinidad and Uruguay.
Disney notes that markets are open to varying degrees and not all exhibitors are currently open, while capacity restrictions also apply to varying degrees. In most markets where Disney+ operates, Raya And The Last Dragon was also available to subscribers via the platform's Premier Access mechanism ($30 per title in US – with unlimited views).
The coming weekend sees the film arrive in Hong Kong and Croatia, with Germany to follow on April 1, Italy on April 8 and France on April 14.
'Tom & Jerry' scores $11.6m globally in fourth session
Warner Bros animation Tom & Jerry saw numbers drop in its fourth weekend of play, falling 53% in North America (to an estimated $6.6m) and a steep 74% internationally (to $5.0m). Those numbers combine to deliver an $11.6m weekend session, taking the cumulative total to $57.3m.
Russia replaced China as the top international market for the weekend period, with respective estimated takings of $1.6m and $1.4m. In cumulative totals, those two territories are way out in front internationally, with $14.9m for China and $5.7m for Russia. Next come Mexico and United Arab Emirates (both $1.5m), Brazil ($1.1m), South Korea and Taiwan (both $1.0m). Singapore and Colombia are both just below $1m.
Brazil was a notably strong result at the weekend, with Tom & Jerry resisting the challenge of Raya And The Last Dragon to stay number 1 at the box office. Mexico continued a strong run with a 7% rise from the previous weekend – no doubt boosted by the fact that local exhibitor Cinépolis is not showing Disney's film, due to a disagreement on terms. Latin American chain Cinemark is likewise not showing Raya.
Tom & Jerry opens this coming weekend in Indonesia, Argentina and Hong Kong.
'Chaos Walking' in $6.4m global debut
Independent sci-fi adventure Chaos Walking, starring Tom Holland and Daisy Ridley, began its global run with an estimated $3.8m in North America for Lionsgate, and $2.6m internationally, for a combined debut of $6.4m.
Doug Liman directs this adaptation of Patrick Ness book The Knife Of Never Letting Go about a dystopian world where there are no women, and everyone can hear each other's thoughts. Drama unfolds after a mysterious young woman (Ridley) crash-lands on the planet. Mads Mikkelsen, Demián Bichir, Cynthia Erivo, Nick Jonas, Kurt Sutter and David Oyelowo also star.
Internationally, strongest market was Australia, where Chaos Walking began with an estimated $915,000, landing in second place behind Raya And The Last Dragon. The film was also number 2 in Mexico, debuting with an estimated $260,000.
Upcoming openings include Russia (March 25) and Brazil (April 8).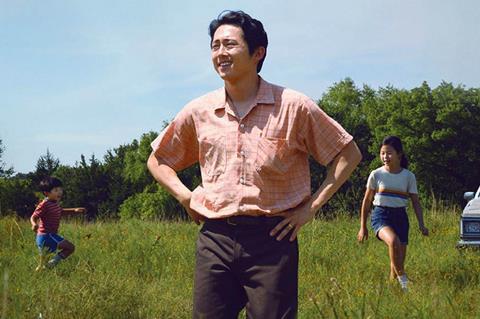 'Minari' tops Korea box office with $2.2m
Awards contender Minari enjoyed a strong opening in South Korea, landing at the top spot with estimated takings of $2.2m – more than double the number for rival new release Raya And The Last Dragon, and the biggest debut since Soul ($2.5m). Lee Isaac Chung's autobiographical tale of a Korean American family buying a farm in Arkansas is a rare US film with specific local interest for Korean audiences, and features substantial Korean language dialogue.
Minari has already outgrossed former Oscar winners in South Korea, such as The Favourite ($1.3m) and Spotlight ($2.1m), and this week it will overtake Green Book ($3.0m).
South Korea is the third international territory to receive Minari, after Australia and New Zealand, where it has grossed a combined $1.0m in limited release, and where expansion is planned after next week's Oscar nominations.