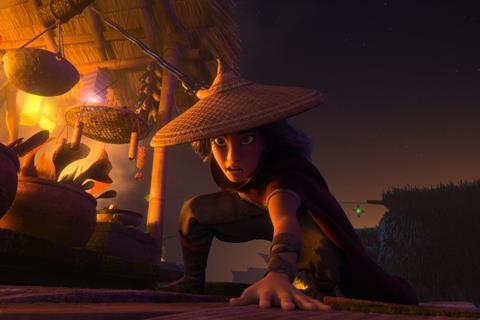 Raya And The Last Dragon delivers $17.6m in international
Disney animation Raya And The Last Dragon received a modest boost at the weekend by opening in three new markets – Saudi Arabia, Hong Kong and Croatia – while also achieving some strong holds.
International takings were an estimated $11.5m (declining 39% in holdover territories), with North America delivering an estimated $5.5m (down 36%). Those combine for an estimated $17m globally, and $52.6m after two weekends of play.
Raya And The Last Dragon stayed at the top spot in multiple markets including Russia, Ukraine, Spain, Sweden, Finland, Iceland, Croatia, Bosnia, Albania, Australia, Indonesia, Singapore, Taiwan, Thailand, Brazil, Ecuador, Bolivia, Trinidad and Uruguay, and was in second place in New Zealand, Saudi Arabia and Central America. Box office increased in four territories: Vietnam, Malaysia, New Zealand and the United Arab Emirates.
After two weekends of play, top markets in cumulative totals are China ($14.6m), Russia ($7.4m), Australia ($2.5m), South Korea ($1.8m), Japan ($1.4m), Thailand ($1.3m) and Taiwan ($1.2m).
The film arrives in Israel and South Africa this coming weekend. Germany, Italy and France are all set to follow in April – although rising Covid levels in Continental Europe must be a concern for Disney.
Shin Evangelion boosts Japan box office
Toho has scored a box office hit in Japan with the release of franchise title Shin Evangelion, which is also known as Evangelion: 3.0 + 1.0 Thrice Upon A Time. The anime is the fourth in the series that previously delivered Evangelion: 1.0 You Are (Not) Alone (2007), Evangelion: 2.0 You Can (Not) Advance (2009) and Evangelion: 3.0 You Can (Not) Redo (2012). The films are a retelling of Neon Genesis Evangelion mecha anime TV series, created by Hideaki Anno and originally broadcast in 1995-1996. Anno is also the supervising director and screenwriter of the four films.
Shin Evangelion opened last Monday (March 8) with first-day takings of $7.4m from 466 cinemas, including $740,000 in IMAX venues – the biggest opening day ever for the premium format in Japan.
We do not have confirmed figures for the full seven days of the Toho release, but based on Imax's takings of $3.4m, numbers are likely to be around $34m.
Imax was also celebrating its success in China with the rerelease of Avatar. As already reported by Screen International, the $21.1m achieved by James Cameron's landmark 2009 film in China at the weekend has pushed it ahead of Avengers: Endgame to retake the all-time global box office crown.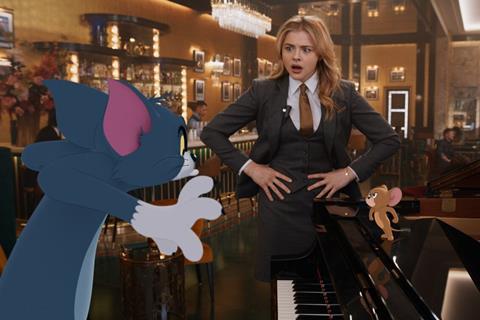 Tom And Jerry delivers $6.7m globally in fifth session
Warner Bros live-action/animation hybrid Tom And Jerry saw a solid result in North America, dropping 37% to an estimated $4.1m for the weekend session, but a steeper decline internationally, dropping 45% with estimated takings of $2.6m. Respective cumulative totals are $28.2m and $38.7m, which combine for $66.9m globally.
Once again, Russia, China, Mexico and United Arab Emirates were the top territories internationally, with new market Hong Kong placing fifth thanks to estimated weekend takings of $176,000.
In cumulative totals, China ($15.6m) and Russia ($7.0m) convincingly lead the pack, with Mexico ($2.0m) in third place, followed by United Arab Emirates ($1.7m), Brazil ($1.2m), Colombia ($1.1m), Singapore, South Korea, Ukraine and Taiwan (all $1.0m). India is just below $1m.
Chloe Grace Moretz stars as a street-smart young woman who scams her way into a job at an upmarket Manhattan hotel that is hosting a celebrity wedding, and must contend with the chaos unleashed by the titular cat and mouse.
This weekend, the Warner Bros film arrives in five new markets, including Japan and Saudi Arabia.
Chaos Walking delivers $3.8m second session
Sci-fi adventure Chaos Walking achieved a middling hold in its second weekend of release, delivering an estimated $2.25m in North America (down 41%) and $1.6m internationally (down 38%). Global total after two weekends of play is an estimated $11.9m.
Tom Holland and Daisy Ridley star for director Doug Liman in this adaptation of Patrick Ness book The Knife Of Never Letting Go, set in a dystopian world where everyone can hear each other's thoughts.
Internationally, strongest markets are Australia (grossing $621,000, and holding on in second place behind Disney's Raya And The Last Dragon), Mexico (second place with $200,000) and New Zealand (third place with $100,000).