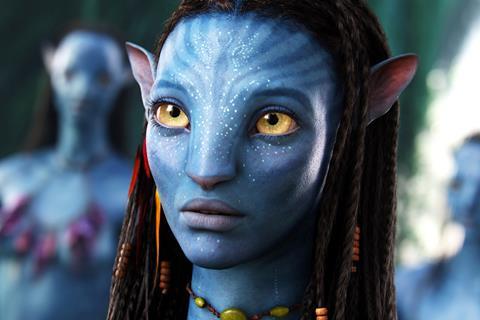 MARCH 14 UPDATE: Avatar has reclaimed its all-time global box office crown as an estimated $21.1m from the re-release in China reported by Disney on Sunday (March 14) propelled the worldwide running total to $2.811bn.

Disney confirmed on Saturday (March 13) that its Fox sci-fi from James Cameron had overtaken the $2.797bn mark set by Marvel Studios' Avengers: Endgame after the first two days of releae in China.
The China three-day weekend haul includes an estimated $6.2m from the IMAX China network, extending Avatar's lead as the biggest IMAX movie ever on $249.5m to date.
Avatar has extended its existing all-time international box office record and the latest tally stands at $2.05bn.
PREVIOUS REPORT MARCH 12: Avatar is on course to overtake Avengers: Endgame and reclaim its title as the all-time global box office champion as it goes on re-release in China this weekend.
According to Disney sources Avatar grossed $3.5m (Rmb 22.5m) and ranked number one on Friday (March 12) on its first day of re-release in China, where film-going is bouncing back with a vegeance.
Heading into the session James Cameron's sci-fi adventure from Disney-owned Fox already ranks as the biggest international release in history on $2.029bn, compared to $1.939bn for Avengers: Endgame from Disney-owned Marvel Studios.
The latter is currently the all-time global leader on $2.797bn compared to Avatar's $2.792bn in change factoring in the $3.5m China opening day.
In terms of North American box office Endgame holds the crown on $858.4m versus Avatar's $760.5m.
Avatar became the global box office champion in 2010 after it opened in December of the previous year, until it was usurped by Endgame in 2019.