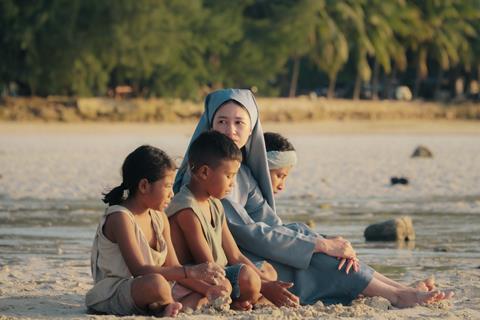 London-based sales and production outfit Reason8 has released an exclusive first look and wrapped shooting in Sumba, Indonesia on Yohanna, a feature written and directed by Indonesia's Robby Ertanto.
The drama follows a young nun, played by Laura Basuki, who gets drawn into the underworld of child labour in Sumba.
Indonesian actress Basuki won the Silver Bear at the Berlinale in February for best supporting performance in Kamila Andini's Before, Now & Then.
Yohanna is lead produced by Ertanto through his outfit Summerland, alongside Denis Krupnov of Reason8. Reason8 also represents worldwide sales.
Delivery is expected for 2023.
Ertanto's previous credits include Jakarta, City Of Dreamers, which played in competition at Tallinn Black Nights Film Festival in 2020.
"A lot of children in Sumba region of Indonesia can't have a normal childhood since they are urged by their parents to earn money from the very early age," said Ertanto. "As young as four years old many of them are forced to start working as child jockeys or bootleg alcohol sellers. Some of them even get married at 11 uears old. Through this film I want to speak about the children of Sumba."