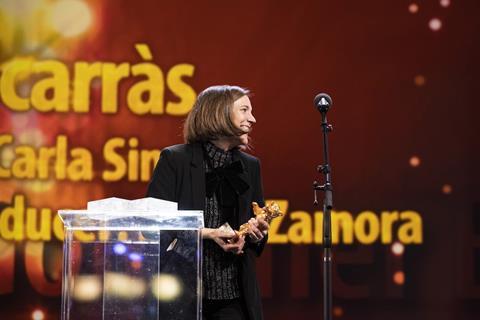 Carla Simon's Alcarras won the Golden Bear at the 72nd Berlinale, in a ceremony held at the Berlinale Palast this evening (Wednesday 16).
"I feel like I should just move here, because every time I come here something amazing happens," said Simon on accepting the award.
The award was presented by Competition jury president M. Night Shyamalan, who praised the film "for its extraordinary performances from the child actors to the actors in their 80s and for the ability to show the tenderness and comedy of family and struggle".
Silver Bears went to Hong Sangsoo's The Novelist's Film with the grand jury prize, and with the jury prize for Natalia Lopez Gallardo's Robe Of Gems.
Claire Denis won the Silver Bear for best director for Fire starring Juliet Binoche and Vincent Lindon. "Thank you Berlinale for having stretched out the hand to us, that was marvellous," said Denis. She thanked her actors, "without whom the mise-en-scene would not have been possible".
In the gender-neutral acting awards, Meltem Kaptan won best performance for Rabiye Kurnaz vs. George W. Bush, dedicating the award to the real Kurnaz "and all the mothers whose love is stronger than borders". Laura Basuki accepted the best supporting performance for Before, Now & Then via a remote video message.
In Encounters, Ruth Beckermann's Mutzenbacher won the best film prize, with Cyril Schaublin taking best director for Unrest and See You Friday, Robinson receiving the special jury award.
Kurdwin Ayub's Austrian drama Sonne won the best debut feature, with the documentary award going to the Myanmar Film Collective for The Myanmar Diaries.
Generation
Earlier in the day, Colm Bairead's Irish feature The Quiet Girl (Irish title: An Cailín Ciúin) was the big winner in the Generation Kplus section, taking the Grand Prix from the international jury, which praised a "very strong narrative…combined with a stunning cinematography". It also received a special mention from the children's jury, who were impressed by "a beautiful film" with "profoundly explored feelings".
The Crystal Bear for best film in Generation was given to Sanna Lenken's Comedy Queen, described by the jury as a "captivatingly told, bittersweet story of loss, grief, anger and healing".
The Crystal Bear in the Generation 14plus strand went to Clare Weiskopf and Nicolas van Hemelryck's documentary Alis, with Jamie Sisley's US title Stay Awake receiving a special mention.
Olivia Rochette and Gerard-Jan Claes' Belgian title Kind Hearts shared the Grand Prix, with Farkhat Sharipov's Skhema.
The ceremony passed without the incident that struck the opening night, although the English translation of non-German awards speeches was broadcast loudly in the auditorium, rather drowning out the speeches themselves.
In a brief speech during the ceremony, executive director Mariette Rissenbeek said, "I'm very happy. I met lots of people on the red carpet, two or three times a day, and we were present. A very big thank you to you, our audience, who are so faithful to us."
"The last one-and-a-half months were very stressful but we were very committed," said artistic director Carlo Chatrian. "Every film is like his own kid for the festival director. The last element is the public."
Berlinale 2022 winners
Competition
Golden Bear for Best Film - Alcarras
Silver Bear Grand Jury Prize – The Novelist's Film, dir. Hong Sangsoo
Silver Bear Jury Prize – Robe Of Gems, dir. Natalia Lopez Gallardo
Silver Bear for Best Director – Claire Denis, Fire
Silver Bear for Best Leading Performance – Meltem Kaptan, Rabiye Kurnaz vs. George W. Bush
Silver Bear for Best Supporting Performance – Laura Basuki, Before, Now & Then
Silver Bear for Best Screenplay – Laila Stieler, Rabiye Kurnaz vs. George W. Bush
Silver Bear for Outstanding Artistic Contribution – Rithy Panh, Sarit Mang, Everything Will Be OK
Special mention - A Piece Of Sky, dir. Michael Koch
Encounters
Best film – Mutzenbacher, dir. Ruth Beckermann
Best director – Cyril Schablin, Unrest
Special jury – See You Friday, Robinson, dir. Mitra Farahani
Best first feature award – Sonne, dir. Kurdwin Ayub
Documentary award – The Myanmar Diaries, dir. Myanmar Film Collective
Generation
Kplus
Crystal Bear – Comedy Queen
Special mention – The Quiet Girl
Grand Prix – The Quiet Girl
Special mention – Shabu
14plus
Crystal Bear – Alis
Special mention – Stay Awake
Grand Prix – Kind Hearts and Skhema, ex aequo