The Film Distributors' Association has published its annual yearbook, revealing a series of statistics around the UK cinema market in 2018.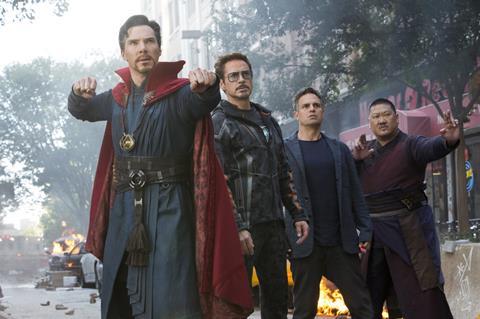 A total of 916 films were released in UK cinemas in 2018 – equating to almost 18 new releases per week. That's a new record, topping the watermark of 900 posted in 2016. In 2017, the number fell slightly to 874. The number has increased significantly over the last decade, growing from 503 in 2009.
However, many of the titles released in 2018 did not return significant grosses. Of the 916, 484 (53%) grossed between £1 and £50,000, with 282 (31%) of those grossing less than £10,000.
Overall, 80.3% of films put into UK cinemas returned less than £500,000, while 3.5% grossed more than £10m, displaying the continued polarisation of the theatrical market.
Of the 916 films released last year, 102 were classified as event cinema releases. Combined, event cinema made up 2.7% of the UK box office last year.
In 2018, the overall market share of the top 20 highest-grossing films was 48.6% (£668m), down from 51.5% the year previously, suggesting a slightly greater spread of takings across more titles. While the year did feature mega-hits including Avengers: Infinity War and Mamma Mia! Here We Go Again, there was no hit Star Wars film in the release calendar for the first time in four years (Solo: A Star Wars Story only grossed a disappointing £20m).
As previously reported, admissions were up by 3.7% to 177 million in 2018, while box office remained roughly static on £1,375,639,001.
The year saw increased dominance for films in the superhero genre. Beyond Avengers, titles included Black Panther, Deadpool 2, Venom, Ant-Man And The Wasp, and Aquaman, as well as two animated superhero films, Incredibles 2 and Spider-Man: Into The Spider-Verse. In total, one in five cinema tickets purchased across the whole of 2018 was for a superhero release. Animated films, meanwhile, represented 17% of the total box office in 2018.
It was a banner year for documentaries in 2018. Propelled by the success of Free Solo, They Shall Not Grow Old and McQueen, docs returned £7.2m in ticket sales last year, up from £4.2m in 2017.
The FDA yearbook also estimates that distributors spent some £350m on releasing and promoting their titles in 2018.
Economic impact of UK theatrical distribution
In the yearbook, a report commissioned by the FDA from Saffery Champness and Nordicity states that UK theatrical distribution contributes £1.6bn to the UK economy on an annual basis, as well a further £262m in exports. It employs around 4,400 full time staff.
Home entertainment
Overall spend on UK visual home entertainment was up 10.1% in 2018, though this was largely accounted for by digital services (up 26% on 2017). Physical retail was down 16.9% on the previous year, while physical rental was down 21.7%.
David Puttnam on 'new realities' for industry
In his foreword, FDA president David Puttnam highlighted an era of "new realities" in the entertainment business, citing "substantial changes in ownership structures and business models [that] will redraw the map during 2019/20".
This year, Disney will complete its takeover of 20th Century Fox's entertainment assets, while further market consolidation is expected in the industry, juxtaposed against the continued emergence of the FAANG companies.
Puttnam pointed to changing habits of consumers. "The way we watch content has been disrupted, re-invented and re-imagined beyond recognition," he wrote. "Libraries of entertainment now exist in the palms of people's hands. The access that storytellers have to their audiences is unlike anything that's previously been possible."
He referenced the "profound changes" by the emergence of mobile technology, and pointed to the roll-out of 5G networks, set to happen in the next few years, as a development that will again "transform the ways we spend our leisure times". 5G technology will allow HD-quality video to be downloaded in a handful of seconds, he noted, and will also open up further opportunities in the virtual and augmented realities spaces.
However, Puttnam also emphasised that traditional storytelling and linear narratives remain the key element of the business. "We should not forget that the experience itself is first and foremost product-led," he wrote. "It's the content on the screen that drives traffic among digitally-empowered, impatient customers."
New FDA initiatives
At an event in London tonight unveiling its 2019 yearbook, the FDA also unveiled new initiatives, including a new guide to film distribution targeted at online social influencers.
Participating execs including Matt Smith, Jessica Simmonds, Charlie Bloye, Thomas Meadmore, Christopher Mitchell and Damian Spandley were filmed discussing their roles and the guide is formed of their video segments – it is targeted at online social influencers who are interested in learning more about how the industry works.
Mark Batey bids farewell
Mark Batey, who has been the FDA's chief executive for 20 years, is set to step down from his position this spring. His replacement is currently being recruited.