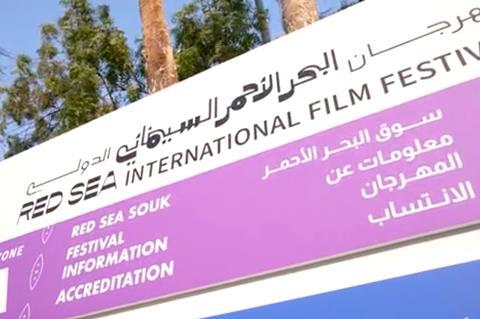 The inaugural edition of the Red Sea Souk, the market component of Saudi Arabia's new Red Sea International Film Festival (RSIFF), opens for business on Wednesday (December 8).
In its first iteration, the four-day event comprises a project market and pitching sessions, a physical exhibition space and a programme of talks, panel discussions and networking events.
"We're planning to be the biggest market in the region, but this will take time and the aim for this first edition is to put us on the map," said Red Sea Souk manager Zain Zedan.
She has overseen this inaugural edition with the support of Julie Bergeron, the Paris-based Canadian market and events expert who previously worked at the Cannes Marché du Film.
"We're confident we'll have around 350 guests, a mixture of companies, distributors, producers and festivals, mainly from the Middle East and Europe, which isn't bad given there is still the Covid-19 situation, and that this is the first edition," says Bergeron.
The market kicks off its events programme with a case study of the shoot of 7th-century action picture Desert Warrior in Neom in Saudi Arabia's northwest Tabuk region with Zeinab Abu Alsamh, general manager of MBC Studios KSA, and Stuart Ford of AGC Studios, who are partners on the project.
There will also be a case study on the shoot of action picture Kandahar at the AlUla heritage site, with producer Christian Capstone and AlUla film commissioner Steve Strachan. Further talks will look at capacity building in the Arab world, with speakers including TorinoFilmLab's Jane Williams, Belgian producer Diana Elbaum and Palestinian Film Lab head Hana Atallah.
The biggest draw for many producers, sales agents and festival representatives making the journey to Jeddah this week is the project market and work-in-progress screenings, focused on upcoming productions by filmmakers of Arab or African origin.
Five works in progress are due to screen over the course of the market: US-Tunisian filmmaker Lofty Nathan's Contra, Lebanese-French director Wissam Charaf's Beirut-set romantic drama Dirty Difficult Dangerous, Moroccan director Hicham Ayouch's Abdelinho and Guinean filmmaker Thierno Souleymane Diallo's The Cemetery Of Cinema.
Another 11 projects have been selected for the project market including Egyptian director Mohamed Siam's Carnaval, Congolese director Machérie Ekwa's Zaïria and Tunisia's Mehdi Barsaoui's Aïcha.
The event will also present the 12 projects that have been developed throughout the year by the Red Sea Lodge project and talent incubator, in partnership with the TorinoFilmLab.
Market screenings
The Souk is also organising a handful of market screenings for new films playing in the festival. Titles getting shown again in the market include Saudi director Maan Bin Abdulrahman's Junoon, Algerian filmmaker Salah Assad's Soula, Palestinian Masharawi Rashid's Recovery, Sharaf, Tunisian director Dhafer Labidine's Ghodwa, Zaid Abuhamdan's Daughters Of Abdulrahman and Iraqi director Albaqer Jaafar's Take Me To The Cinema.
The exhibition space will host 19 companies, 11 of them from Saudi Arabia. These include institutional bodies including the Saudi Film Commission, the King Abdulaziz Center for World Culture, known as Ithra, and the Saudi Authority of Intellectual Property (SAIP).
Medi and entertainment groups MBC and Rotana have also taken stands. A raft of burgeoning content production companies are attending including Telfaz 11, Manga, Rowad Media, Arabia Pictures Group, Cuckoo Crew and N Stars as well as rising arthouse distributor CineWaves.
RSIFF managing director Shivani Pandya Malhotra, who oversaw the development and growth of the market of the Dubai International Film Festival, believes it is only a matter of time before the Red Sea Souk becomes the "ultimate platform for the region".
A potential game-changer for the Red Sea Souk is the size of the Saudi population (34 million) and its potential market, which is far larger than any neighbouring territories and means international companies and professionals are eager to connect.
"What we've started off in year one is what is achieved in other festivals after many, many years," says Pandya Malhotra. "From my perspective, I think the industry is the heart and the engine of the festival."