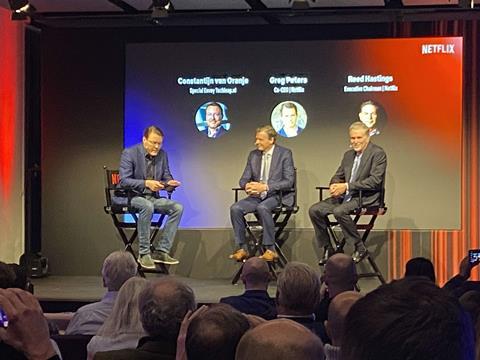 Netflix executive chairman Reed Hastings has talked up the streamer as the "biggest builder" of cross European cultural connectivity in the European Union.
Hastings was speaking at a Netflix event for European policy experts, press and politicians held at the company's EMEA HQ in Amsterdam, where he shared the stage with co-CEO Greg Peters.
Asked about the most unexpected result of Netflix's creative push into the EMEA region, Hastings said: "The amazing thing has been how many Germans watch Spanish series, how many Italians watch Spanish series. We didn't set out to do it – but we've become the biggest builder of cross European culture in the EU."
He said that it was "ironic" that it had taken a US company like Netflix to achieve this.
Hastings added: "That is partially because all the other networks are more national networks. And they specialise in one language group. And then we specialise in connecting.
"The way that you all have watched a Turkish series or Dutch films has been amazing. So, I would say the unexpected part has been that cross fertilisation within the EU."
His comments come at a time when many European countries are increasingly focusing on the amount that streamers like Netflix invest in original content in Europe.
Netflix opened its EMEA HQ in Amsterdam in 2015 and soon after began investing in its first content from the region. Today's event was designed to showcase its investment in EMEA region since then, and included a tour of Netflix's offices, plus a Q&A with EMEA vice president of content Larry Tanz, and a panel with creators of recent Netflix hits.
"Amsterdam's an incredible city – such high English fluency for an American company, centrally located, practical and great employees. I don't know why anyone would choose any different," said Hastings about the decision to open its EMEA base in the city.
"It's just been a fantastic choice for us as our headquarters. We have very strong operations in Berlin and Paris and London, but this is the backbone, the headquarters. We couldn't be happier."
Letting go
Hastings announced in January that he was stepping down as chief executive of Netflix, but will remain at the company as executive chairman. Peters was promoted to co-CEO alongside Ted Sarandos.
Asked if he found it easy to "let go", Hastings responded: "Yeah, I've done a good job of letting go in the last month and a half. I've been skiing a lot."
Tanz noted that the EMEA region last year became Netflix's biggest in terms of members.
As well its Amsterdam HQ, Tanz said that Netflix now has teams in 11 different country offices throughout EMEA who are commissioning original content for the streamer.
Referring to Netflix's push into content commissioning in Europe, Tanz said: "We started kind of tiptoeing into it with The Rain from Denmark, La Casa de Papel from Spain and Dark from Germany. And we were commissioning out of LA. Then we quickly realised that we needed to be closer to the creative community, and closer to our members in those countries so we could understand them better.
"So, over time we built the team up to the 11 offices around the region. Now we have strong executive talent in each of those countries, looking across films and series, acquisitions and documentaries. What that does for us is it enables us to bring this variety of films and series to our members."
Tanz added: "It also brings us closer to the creative community, so that producers who are super important partners for us creatively can work seamlessly with Netflix – they don't have to fly to LA to pitch a show for Germany, they don't have to translate their scripts from Italian to English to get their film financed, and they don't have to say, All Quiet [On The Western Front] – well, I guess it has to be in English to be successful. Ed Berger can make that film in German, and it can be popular for us in German, but also around the world."
Peters was asked about Netflix's recent launch of its ad-tier platform, and explained its launch by saying: "There's only two things that we hold as religion – member satisfaction and profit. At the end of the day, when you have that as your centre of focus, you are constantly challenging yourself. That leads to things like pushing your thinking around advertising and being able to expand and do new things when you need to."
Netflix also used the event to announce two new Dutch comedy films, The Dadchelor and Bad Boa's.
The Dadchelor, from creators Jon Karthaus and Daan van den Nouweland, is a comedy film that tells the story of uber-responsible Mark, who is about to become a father and goes on a seemingly innocent Dadchelor weekend, that spirals out of control and even puts the life of his friends on the line. It is produced by Johnnywood and NRG Productions.
Bad Boa's is a comedy film in collaboration with Dutch comedian Jandino Asporaat, about a well-meaning but barely effective BOA, who are officers who help the police to supervise local order and safety. It is produced by Huntu, a collaboration of Het Huis van Asporaat and Kaap Holland Film.