London's biggest film export event returns with a new name and strong selection of upcoming titles.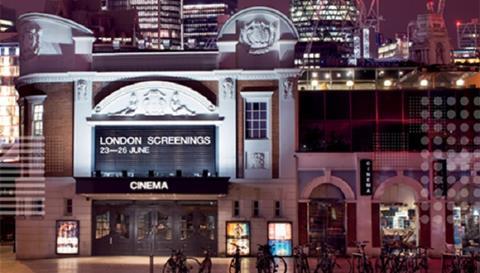 This year's London Screenings (June 23-26) marks the 11th edition of the capital's biggest film export event and has been given a make-over for 2014.
It has dropped the previous title of the London UK Film Focus (LUFF) and will introduce various new strands. But organisers are quick to point out this isn't a case of reinventing the event - more of "buffing it up" after more than a decade.
"Everyone felt that after doing it for 10 years, maybe it was time for a bit of a facelift," says Adrian Wootton, CEO of Film London, which organises the London Screenings.
The budget of around $330,000 is roughly the same as in previous years. The key difference is that the event, which generates an estimated $8m a year in international business for British films and sales agents, has secured multi-year funding.
Helena Mackenzie, head of inward investment and business development at Film London, adds: "It's a natural time to look back at what you've done and look at some of the ways you can improve."
Around 120 buyers are confirmed to attend including representatives from North American firms TLA (Raymond Murray), Tribeca (Alison Diviney) and Mongrel Media (Andrew Frank).
French buyers include Diaphana (Karin Beyens) and Wild Bunch (Marie-Pierre Valle); German buyers include Ascot Elite (Stephan Giger) and Prokino (Ira Von Gienanth); and Italian buyers include Eagle Pictures (Maria Grazia Vaira).
"I do think it is critical that the UK has a dedicated event for British films and British sales companies. God knows, we work in a very overcrowded and highly competitive marketplace," says Stephen Kelliher, head of sales and marketing at the UK's Bankside Films, which will be showing the trailer for X + Y starring Asa Butterfield in the "Coming Soon" section.
New Sections
Distributors have sometimes grumbled about the uneven quality of the selection. But the fact they keep coming back in huge numbers - and acquire British films - suggests the event retains its appeal for them.
One innovation likely to plase buyers is the introduction of "invitation only" screenings of some high profile films by leading companies such as Altitude Film Entertainment, Embankment Films and Protagonist Pictures.
There is also a new "Coming Soon" section, focusing on pre-sales and newer titles. The idea, Mackenzie explains, is to present material that buyers will not have encountered before.
The films already represented by sales companies are presented in Showcase. The Breakthrough section highlights films from emerging talent.
"We're not just resting on our laurels," Wootton notes. "It's a good event (already) but we've done something that hopefully makes it even more useful to the sales and acquisition community."
Speak ot sales agents and they enthuse about the relaxed atmosphere at the London Screenings.
"You talk about business certainly and the objective is to do business. But it is done in a very conducive atmosphere," Kelliher comments. "That goes a long way to facilitating deals later in the year."
Premieres
Films receiving premieres at the London Screenings include:
Between Dog And Wolf, a documentary about cult band New Model Army, sold by The Match Factory;


Dough, John Goldschmidt's bakery-based family drama starring Jonathan Pryce, sold by Umedia;


Killing Joke - The Death & Resurrection Show, a punk documentary, sold by Kevin Williams' Elixir;


Peterman, Mark Abraham's crime drama, sold by Park Entertainment;


Rio 50°, Julien Temple's Brazilian music documentary, sold by Metro International;


Seve, the biopic of late golf chamption Seve Ballesteros, sold by The Salt Company;


Shooting For Socrates, directed by James Erskine and starring John Hannah, sold by Metro International;


The Greatest Englishman, Justin Hardy's Victorian era drama about the first man to swim the English Channel, sold by Manifest;


The Guvnors, a bruising London gangland drama, sold by Metrodome International;


We Are Many, an activist documentary, sold by Metro International.
Meanwhile, Bankside will be flagging its romantic comedy The Big Shoe starring Kristen Stewart and Jim Sturgess and looking for further pre-sales on US drama Freeheld, starring Julianne Moore and Ellen Page.
Ben Roberts, director of the BFI Film Fund, will be tub-thumping on behalf of the current BFI-supported movies in production and post-production, among them Yorgos Lanthimos' The Lobster.
Films showcased at the Screenings can sometimes capture buyers' imaginations. For example, Dexter Fletcher's Wild Bill was released by Universal UK after being introduced to buyers at the Screenings in 2011.
Regardless of whether or not deals are done over the next few days, the sellers see the event as an ideal way for beginning negotiations that may take unto Toronto and the AFM to conclude.
The organisers are still exploring potential collaboration with the Edinburgh International Film Festival (June 18-29), which runs at the same time and is also supported by the BFI. At this stage, although relations between the two events are cordial, no-one has come up with a practical way of them working together.