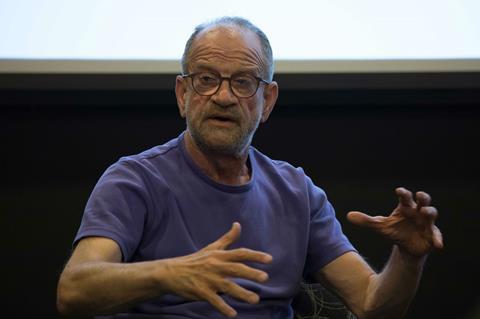 Renen Schorr has just enjoyed his last edition of the Cannes Film Festival in his role as director of the prestigious Sam Spiegel School for Cinema and Television in Jerusalem, which he has spearheaded over the past 30 years.
The Israeli cinema industry veteran announced his departure in the Israeli press on the eve of the festival and is now on a swansong tour.
"I will be stepping down from the school in five months' time, around November, December time," Schorr told Screen. "Until then I am working full steam ahead while the board of directors selects a he or a she to replace me, or maybe even two people."
Schorr plans to continue running the associated Sam Spiegel Film Lab, a seven-month programme modelled on the Sundance and Torino Labs which has helped films including Laszlo Nemes's Cannes Grand Jury Prize winner-Son of Saul, for at least another year.
Quizzed on life after the Sam Spiegel School, Schorr said: "In a nutshell, I'll keep my civil rights to surprise… I might stay in the film industry, write a book, do nothing at all… I've been on call 24 hours a day for 30 years, it is time for me to take back my life."
Opened in 1989, the Sam Spiegel School has nurtured a raft of Israeli film-making talent including Rama Burshtein, Nadav Lapid, Talya Lavie, Tom Shoval. Nir Bergman and Elad Keidan.
After Cannes, Schorr is going to hot-foot it to the Tel Aviv International Documentary Festival, or Docaviv, for the premiere on May 25 of the feature-length work The Voice of Ahmad. Created by alumni of the Sam Spiegel School For Cinema and Television, the work revisits the 1966 Israeli short I Am Ahmad, about a Palestinian labourer from the North who is unable to secure an apartment to rent in Tel Aviv.
Some 50 years later, the students re-explore the present reality of the Palestinians living within Israeli borders, who make up 20% of the Israeli population, exploring the deteriorating relationship between Jewish and Palestinian citizens and looking at whether co-existence will ever be possible.
"It's a very political film. It's an activist film," said Schorr. "20% of Israeli citizens are Palestinian. They're not our enemies. They're part of our population but Israel is very racist towards them."
It is the third film in the so-called Jerusalem Sam Spiegel Alumni Trilogy, in which graduates revisit short Israeli films dating back to the 1960s when the local cinema industry was in its infancy and the original work gets restored.
The first film was Footsteps in Jerusalem, paying tribute to David Perlov's 1963 In Jerusalem, which screened simultaneously on one day in 50 locations worldwide, including MoMA in New York.
Schorr is now gearing up for the final pitching event of the eighth edition of the Sam Spiegel Lab taking place July 4-9 in Jerusalem.
In addiition to the projects, highlights will include a special tribute to Sony Pictures Classic co-founder and co-president Michael Barker. The distribution veteran will receive its Force-of-Nature award and also give a masterclass about film poster art.