Journalist and film critic Kaleem Aftab remembers his friend, Richard Lormand, who has died aged 56 from cancer.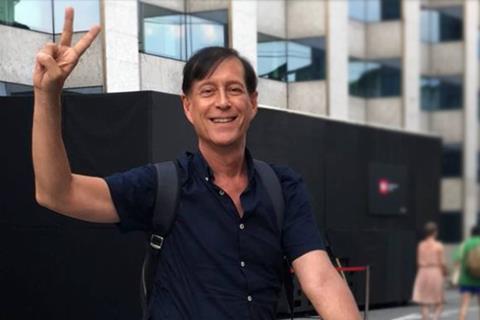 RIchard Lormand was a popular and flamboyant personality in the film world, whose tireless work and dedication to cinema made him the compass point for filmmakers, sales agents, distributors and journalists.
Over the past 25 years working in international communications, film publicity and marketing, he handled a plethora of award-winning films, including several Palme d'Or, Golden Lion and Golden Bear victors.
Lormand was working as part of the press consultancy team at the Locarno Film Festival and was preparing for the re-launch of the Marrakech International Film Festival at the time of his death.
He was a champion of film. The announcement of his film slate would always begin with the endearing salutation 'Bonjour Film Lovers' before floridly and convincingly explaining why we should watch a new voice from far-flung corners of the Earth, or why the latest film from his returning auteur would be capturing our imagination and hearts. Invariably he was right. His releases were a challenge to journalists: could we sum up a film with more passion, vitality and style than Lormand had himself relayed?
To be represented by Lormand was a sign of quality and a comfort for filmmakers that their work was in the best hands. To list the directors he has aided would take as long as some of the Lav Diaz films he represented. He championed among many others, Maren Ade, Fatih Akin, Alice Rohrwacher, Christian Petzold, Samuel Maoz, Lav Diaz, Ritesh Batra, Takashi Miike, the Taviani Brothers, Apichatpong Weerasethakul, Jerzy Skolimowski, Amos Gitai, Lucrecia Martel, Alexander Sokurov, Jafar Panahi and Takeshi Kitano.
"He's worked on everyone one of my films since Head-On and was as indelible part of my films' successes," Akin told Screen.
Lormand was also part of the production teams on Mitchell Lichtenstein's Teeth, Happy Tears and Angelica, as well as being a producer on Gitai's Disengagement, starring Juliette Binoche, one of his favourite actresses. Having started out as a reporter for Reuters in New York City, he went on to work at the Cannes Film Festival and for festivals in Taormina, Torino and Viennale. He also subtitled films from French, Spanish and German into English.
In 1994 he wrote and directed the award-winning short Ti-Boys Wife (La femme de Ti Boy) and he took great pleasure when Locarno projected the film he made as part of their #movieofmylife campaign on the enormous screen at the Piazza Grande in 2017.
The movie he chose, Bonnie And Clyde, was the first grown up movie he remembers seeing at a cinema where he was born in rural south west Louisiana to a Japanese mother and a native French-speaking Cajun American father. His elder cousin snuck him into the movie theatre when he was just five years-old and so began a love affair that lasted all his life.
Good company
Yet it was his larger-than-life personality that will be most missed. For many years the debonair Lormand would arrive at international film festivals immaculately dressed with his sidekick, his pooch Tina. His smile could melt hearts and would come in especially handy after he had voiced a snooty opinion or appeared irascible at a poorly formed review or differing opinion. However, it was his big heart and passion that defined him.
There is many a journalist who can recount the time Lormand was the first to give them a chance with an interview opportunity, or offered great counsel and encouragement when times were hard. Filmmakers would be picked-up and encouraged, told of their unique qualities when others were sneering.
Lormand also had great taste and it is not a slight to say that he knew it. The last occasion I met with him at the recent San Sebastian Film Festival, Lormand was organising a dinner for a few friends, an event that in retrospect seems like he was already saying farewell. When I queried on a dietary requirement, he responded "Lol questioning my taste in restaurant".
And of course, he was inevitably right, everyone was sated and the evening was fabulous. As always he was perfect company talking about his passion for Cher, regaling us with tales of movies and his recently born admiration of Jeff Goldblum with whom he had just worked at the Venice Film Festival. He had just taken on another job and persuaded me to come and join him on an adventure in Marrakech for the festival. It is now one I will have to do without him.
To a person, all of the very many outpourings of affection for Lormand describe his affection, boundless enthusiasm, hard work and flawless professionalism. There are of course some mentions of nights backstage with Marianne Faithfull, and dinners and drinks because Lormand was a man who enjoyed life whether he was residing in Paris or Buenos Aires, or just hobnobbing at a film festival.
His wit, charm and knowledge shall be sorely missed. The world of cinema has lost one of its fondest movie lovers.
Tributes
RIP Richard Lormand. I was always a tough nut for him to crack, yet he never was anything but warm, gracious and gently sarcy. I'm in shock. I didn't know he was ill.

— Nick James (@filmnickjames) November 16, 2018
So sorry to hear about Richard Lormand, a film publicist of wit, compassion and fine judgement, whose pre-fest press releases genuinely got you buzzing to see his slate. Urbane, cosmopolitan, he'll be missed.

— Jonathan Romney (@JonathanRomney) November 15, 2018
Let me add to the many tributes on here tonight to Richard Lormand, one of the most personable and devoted film PRs I've ever had the pleasure of working with. His briefing emails lit up my festival prep; I'll miss them, and him, so much.

— Robbie Collin (@robbiereviews) November 15, 2018
So sad to hear of the death of Richard Lormand. A recent "proper" meeting in San Sebastian made me imagine a giggly, excitable professional relationship that would last for years. I am so sorry we're not going to have that chance, and jealous of the many who had. He really cared.

— Jessica Kiang (@jessicakiang) November 15, 2018
Very saddenend by the passing of my dear friend and colleague #RichardLormand@filmPressPlus He was a real film lover, always passionately engaged, had a great sense of humour and a big heart. I will miss him very much

— Frauke Greiner (@FraukeGreiner) November 16, 2018
Richard was bloody good at what he did and agree he was " warm and gracious". He had a delicious sense of humour. RIP Richard Lormand.

— Baz Bamigboye (@BazBam) November 16, 2018
One of the many wonderful things about Richard Lormand is that you never knew where you'd see him next – and could never imagine where he'd just come from. It's hard to believe that his globe-trotting days have come to an end. He leaves a huge hole in the international film world

— Damon Wise (@yo_damo) November 16, 2018
Passion, competence, professionalism. And friendship.
Farewell, Richard, and thank you. https://t.co/onDzZ8zgN2pic.twitter.com/xl71imSZG0

— Locarno Festival (@FilmFestLocarno) November 16, 2018