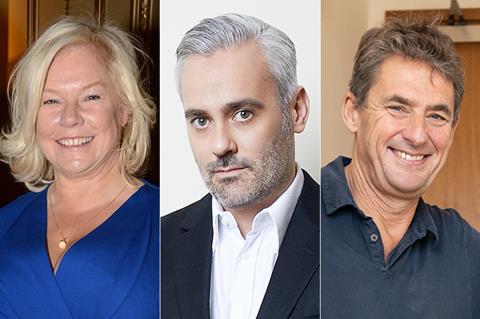 Tim Bevan, co-chairman of Working Title Films, Iain Canning, joint managing director of See-Saw Films, and Alison Owen, partner at Monumental Pictures, will come together to discuss the state of play for their respective companies and the international-facing content they produce at the upcoming Restart Conference (May 18-20).
The three powerhouse British producers will explore a range of topics including the impacts of the pandemic and Brexit on production and securing crews and talent; sourcing and developing film and television projects that will connect with audiences; and forging relationships with the new global players.
The live panel, chaired by Screen International editor Matt Mueller, will take place online at 9:30am BST on May 19.
Organised by Media Business Insight (MBI), publisher of Screen and Broadcast, the three-day virtual industry conference will see a number of sessions discussing the impact of the pandemic on the industry and how it can move forward, successfully navigating its way into the future. Find out more here.
The conference is free to attend for subscribers of MBI's leading media brands:Screen international, Broadcast, KFTV, Broadcast Intelligence, Commissioners Index and Production Intelligence.
To claim your free subscriber pass for the event, head to the website, register your interest and the team will be in touch. For non-subscribers there are ticket options available from £75, more details can be found on the registration page.
Restart is sponsored and supported by ScreenSkills, the BFI, the British Film Commission and Centtrip.