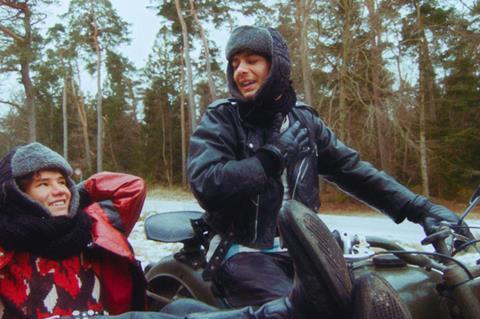 The 16th Rejykavik International Film Festival (RIFF) has awarded its top prize – the Golden Puffin - to Shahrbanoo Sadat's The Orphanage, the Bollywood-tinged drama about an Afghan boy who is sent to a Russian facility which is enjoying a strong festival run after its premiere at Quinzaine in May. The winner of the sidebar Competition, A Different Tomorrow, went to the documentary Midnight Traveller, by Hassan Fazili, a documentary performer since its Sundance bow.
The Puffin awards capped a busy festival in which the French auteur Claire Denis was presented a lifetime achievement award by the President of Iceland, Guoni Th. Johannesson. Visiting the festival briefly, Denis spoke of her continued work as a fiercely independent film-maker, referencing her current unannounced project which she revealed to be an adaptation of a work by the American author Denis Johnson, a two-hander about "two people falling in love who were not meant to be together".
RIFF, celebrating 16 years under the guidance of artistic director Hronn Marinosdottir, took place mostly in Rejykavik's Bio Paradis cinema, the first and only arthouse cinema in Iceland currently facing challenges due to the renegotiation of its lease, signed back when it opened in 2010 and now due for renewal.
With Icelandic features highlighted at the festival – documentaries including The Last Autumn, The Last Tour and The Seen And Unseen all demonstrating a strong focus on environmental matters – RIFF also hosted a Works In Progress from the Icelandic Film Centre.
Noomi Rapace's return
Footage was not available from the eagerly-awaited genre feature Lamb, which will mark Noomi Rapace's return to Icelandic cinema. Directed by Valdimar Johannsson and written by the Oscar-nominated Sjon, Lamb is completed and now in post-production, confirmed producer Sara Nassim, with delivery expected in early 2020 due to the complex nature of its special effects work. Lamb tells the story of a rural Icelandic sheepfarming couple who find a child who is half-human, half-lamb. One of its co-producers is Sweden's Black Spark, which made Border. New Europe is on board for sales.
Another intriguing project presented was The Hero's Journey To The Third Pole, A BiPolar Musical Documentary With Elephants by directors Andri Snaer Magnason and Anni Olafsdottir. This concerns the renowned Icelandic musician Högni Egilsson (formerly with the band Hjaltalín) who suffered a slow collapse in public after being diagnosed with bi-polar disorder. The documentary traces his connection with a woman who is coping with the same condition in Nepal.
Also newly presented was The Bountiful Land, a food documentary about traditional Icelandic cuisine directed by Asdis Thoroddsen which has already sparked international interest according to the Icelandic Film Centre.
Netflix
Footage from the first Netflix TV series to be made in Iceland, The Valhalla Murders was shown. Made by Truenorth and Mystery Productions for local broadcaster RÚV and Netflix, this eight-part crime series is set to show in Iceland in December and worldwide on Netflix in March. The series tells the story of two Icelandic police offers who, while investigating the country's first potential serial killer, come across a scandal at an abandoned boys home called Valhalla. Sales were handled by DR Sales.
Prophetic

It has been six years in the making but seems almost prophetic now. Eight-part TV series The Minister, directed by Nanna Kristin Magnusdottier and Arnor Palmi Arnarson, tells the story about Iceland's prime minister whose election provokes a sudden deterioration in his bi-polar disorder, complete with manic episodes. Bjorn Thors stars. Cineflix Rights handles sales.
RIFF, which opened with the Iceland/Ireland co-production End Of Sentence starring John Hawkes and sold by Rocket Science, devoted its In Focus this year to Austrian cinema, showcasing seven features from Space Dogs to Little Joe.
Apart from handing out their main awards to The Orphanage and Midnight Traveller, the two RIFF juries – New Visions headed by Filmcomment's Nick Davis, A Different Tomorrow by Films Boutiques' Gabor Greiner – made special mention of several titles. For New Visions these went to Maternal, Corpus Christi, and the dialogue-free Icelandic feature The Last Autumn, which premiered at Karlovy Vary and is the second documentary by Yrsa Roca Fannberg after Salome. It tells the story of two farmers who are about to retire and the last autumn they spent working the land.
A Different Tomorrow gave special mention to Gods Of Molenbeek, a documentary set in Brussels.