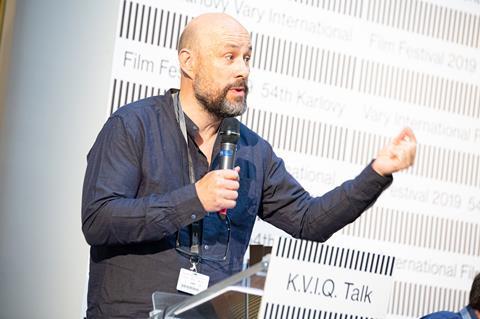 Icelandic director Benedikt Erlingsson launched a passionate tirade against the wastefulness of the film industry, in a talk focused on sustainability at the Karlovy Vary International Film Festival (KVIFF) on June 30 (Sunday).

In a 10-minute speech Erlingsson described film festivals, including the one at which he was speaking, as "a carbon-farting crisis".
"They send scouts all over the world farting carbon. They invite foreign guests, farting carbon. They eat meat, take taxis, turn up the air conditioning. Are film festivals part of our problem? Yes. Will they be able to continue this way? No. They will have to change, and find a new form if they are going to be sustainable."
Erlingsson's third feature Woman At War premiered in Critics' Week at Cannes 2018, winning the SACD Screenwriting Award. It centres on a middle-aged woman whose long-held desire to have a child is threatened by her new-found passion for environmental activism.
The filmmaker also identified film production as part of the problem, citing the more than 1,600 features made every year in Europe, of which he said only 600 secure any distribution outside their country of origin.
This "not sustainable", and is linked to a contemporary obsession with entertainment, he claimed.
"When the archaeologists in the future dig back to our layer, they will call this period from World War Two to the climate catastrophe 'the age of entertainment', when homo sapien put its head in the sand for entertainment and was unable to react against the immediate threat."
Solutions
Erlingsson said the industry should reduce its amount of air travel, citing his own presence at the festival as evidence of potential for change.
"We have to make films that are lighter in carbon in production. We will maybe have to have fewer film festivals, with fewer foreign guests, and we have to speak longer every time. An Icelandic director flying five hours to do one Q&A and an introduction – that can be solved with a web conference."
"You could invite the audience into his home where he can work in Iceland and show all his trophies."
"It would be much more interesting for the cinema-goer to have this kind of introduction, instead of a tired director answering the same questions with this trail of farting carbon after himself."
The final part of his answer to this problem was to plant trees, which remove the carbon pushed into the air.
"When you come to a festival, there could be a ceremony where you plant a tree," he said. "This festival forest grows year after year - we can have a party all night in our festival forest, and then we can go home late and sleep all day. This is my solution – work less, sleep more and plant trees."
Other participants who each gave 10 minute talks included Dylan Leiner, vice president at Sony Pictures Classics; producer Linda Beath; and soon-departing European Parliament member Helga Trüpel.
The session was part of KVIQ Talks, a new section to the Karlovy Vary Eastern Promises industry strand in which industry figures discuss contemporary issues.