Oscar and BAFTA award-winning actor, director and producer starred in Brighton Rock and Jurassic Park.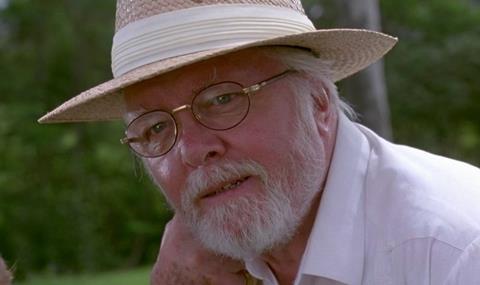 Richard Attenborough has died aged 90, his son has confirmed to the BBC.
As an actor, Lord Attenborough will best be remembered for his roles in Brighton Rock, The Great Escape, Miracle On 34th Street and Jurassic Park.
He made his professional stage debut aged 18 and went on to accumulate nearly 80 credits acting on film.
As a film director and producer, he won two Oscars for Gandhi in 1983.
He directed 12 movies, starting with Oh! What A Lovely War in 1969, going on to make A Bridge Too Far (1977), Chaplin (1992) and Shadowlands (1993). His final film as a director was Closing The Ring in 2007.
British Prime Minister David Cameron paid tribute on Twitter and said: "His acting in "Brighton Rock" was brilliant, his directing of "Gandhi" was stunning - Richard Attenborough was one of the greats of cinema."
He leaves wife Sheila Sim, to whom he had been married since 1945, and children Michael, Jane and Charlotte. His brothers are naturalist and broadcaster Sir David Attenborough and John Attenborough.
Paying tribute, BAFTA said Attenborough was "a monumental figure" in its history, where he was vice president from 1973 to 1995, and became president in 2002, which he held until 2009 when he handed the title to HRH Prince William, The Duke of Cambridge.
A joint statement from BAFTA chief executive Amanda Berry and chair Anne Morrison said: "Lord Attenborough occupies a special place in the hearts of so many and will be missed enormously. Our thoughts are with his family, to whom we offer our deepest sympathy at this sad and difficult time."
He was also chair of the British Film Institute (BFI) for more than a decade.
BFI CEO Amanda Nevill said: "The world has lost a very, very special person. Dickie was multi-talented as an actor, producer and world-class film director, but he was also a warm, compassionate and empathetic man and a friend to all those who met him.
"He loved the art and culture of film and was a tremendous advocate for every part of it, not least for the BFI where he was chair for 13 years, as well as for the British film industry, playing a major part in enabling it to attain and hold the position it has today as a world-leader.
"His support for individuals whether they were starting out in the industry or accomplished professionals such as himself, knew no bounds and his legacy will continue to be an inspiration for generations to come. We are all saddened."
Adrian Wootton, chief executive of Film London and the British Film Commission, said in a statement: "I am deeply saddened about the passing of the great Lord Richard Attenborough; a legend who was a mentor, a patron and a friend. We have lost a visionary leader who influenced every aspect of our industry and his loss will be felt deeply, but I'm heartened to know his tremendous legacy will continue to inspire."