Two screenings in Brussels of the Toronto award-winner cancelled over age-rating dispute.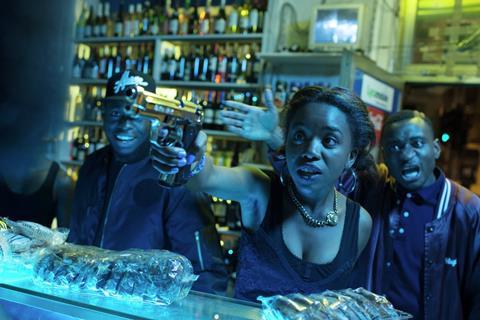 Amid turbulent scenes on Wednesday night in Belgium, Kinepolis Brussels had to cancel two screenings of controversial new Belgian movie Black because of rioting.
The film, which won the Discovery Award at this year's Toronto International Film Festival, is based on a children's book and directed by Adil El Arbi and Bilall Fallah.
It tells the story of a 15-year-old girl in a gang in Brussels who must choose between loyalty and her heart when she falls for a Moroccan boy from a rival group.
The much-hyped movie, which opened in Belgium on Wednesday, has a 16 certificate. This meant that teenagers desperate to see the movie could not gain admission.
What many did was to buy tickets for other films and then attempt to slip into the auditoriums that were showing Black. But these screenings were already completely sold out and the youngseter refused to leave the cinema and started to throw objects.
The police were called and Kinepolis eventually responded by cancelling both the 5.30pm and 8pm screening.
The film's producer, Frank van Passel of Caviar (the outfit also behind Diary Of A Teenage Girl), was sharply critical of the censors.
"There were a lot of young teenagers who really wanted to see the film," Van Passel told ScreenDaily. "I am not sure that these certificates work in an environment where all these young people are going to be able to see this film in a few months on DVD or online."
The Caviar boss suggested that a 14+ certificate (if one had been available) would have been "much better, much more logical" for Black.
"Adil and Bilall, the two Moroccan-Belgian directors of the film, touched a sensitivity which hasn't been touched until now," van Passel commented of the way the movie addresses the gang subculture in Brussels.
Black recorded 14,000 admissions on Wednesday, a very robust opening for an independent Belgian film, and box office is continuing to gain momentum.
BE for film is selling the film internationally.