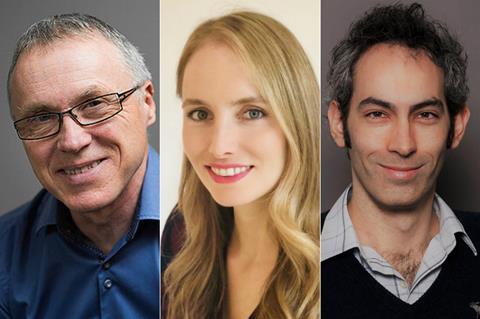 Three new speakers have been confirmed for Screen International's UK Film Finance Forum taking place at Everyman Broadgate in London on December 5, 2019.
They are: Nik Bower, co-founder of London-and Los Angeles-based financing outfit Riverstone Pictures; Dave Morrison, partner at London-based entertainment accountancy firm and EIS specialists Nyman Libson Paul (NLP); and Celia Meirow, senior vice president, business development at London-based film and TV financier Anton.
They join previously announced speakers including producers Kevin Loader (The Personal History of David Copperfield) and Dominic Buchanan (The End Of The F***ing World); Pioneer Pictures owner Ildiko Kemeny; Samantha Perahia, head of production UK for the British Film Commission; Phil Hunt, co-managing director at Head Gear Films; Tim Haslam, co-founder of Embankment Films and Gary Collins, CEO of Red Rock Entertainment.
The event will give attendees a detailed analysis of the challenges facing and opportunities available to producers in the fast-changing landscape of film and high-end TV finance in the UK.
The Finance Forum will feature leading speakers and panels sharing insight on topics including:
Getting private investment to back your project
Leading private financiers reveal what they are looking for from producers when investing in UK film and high-end TV projects. They will talk about how to pitch to them, how they measure success and the international market trends that impact their decision-making.
Making EIS and the UK tax credit work for you
EIS and financing experts will discuss the best way to navigate the new EIS rules, details of the new BFI-endorsed EIS fund and how to get the most out of the UK tax relief for film and high-end TV.
How public funds are backing UK projects
Commissioners will outline how what they do is different to the private financiers, how they work with producers and the role they play in financing in an indie sector increasingly transformed by the US streamers and pay-TV platforms.
Combining the UK tax credit with an international shoot
International producers and experts bring their tried-and-tested experience to a panel that will describe how producers can best match the UK's film and high-end TV tax reliefs with international incentives when shooting around the world and setting up co-productions.
The Producers' View
A group of the UK's top film producers come together to talk about where they see the opportunities and challenges ahead. The conversation will encompass raising financing for their film and TV projects in a fast-changing global market, how they nurture talent relationships to attract writers, directors and actors to their projects, and how they are working with the US pay-TV giants and streaming platforms.
The Screen International UK Film Finance Forum is sponsored by Malta Film Commission, Malta Film Studios, Red Rock Entertainment and Ville de Marseille. Everyman is the venue partner.
For more information on the event, click here.