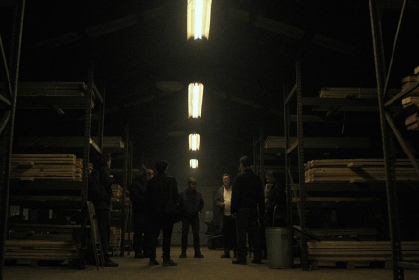 RLJE Films has acquired all North American rights to Cinestate and XYZ Films' thriller The Standoff At Sparrow Creek ahead of its world premiere in TIFF Midnight Madness on Wednesday (12).

XYZ Films handles international sales and has introduced Toronto buyers to Henry Dunham's feature directorial debut about the repercussions of a police funeral shooting.
When a former police officer realises the killer belongs to the same militia he joined after quitting the force, he fears the killing might set off a chain of copycat violence.
What follows is a gruelling probe to uncover the identity of the killer after he rounds up his fellow militiamen and quarantines them in a remote lumber mill to conduct the investigation.
James Badge Dale, Chris Mulkey, Brian Geraghty, Robert Aramayo, Patrick Fischler, Happy Anderson, and Gene Jones star.
RLJE plans a theatrical and digital release in early 2019. Dallas Sonnier and Amanda Presmyk produced for Texas-based Cinestate, alongside Sefton Fincham, Johnathan Brownlee, and Adam Donaghey.
XYZ Films' Nate Bolotin and Todd Brown are executive producers with Danielle Cox, Steve Gossett, Jr., Preston Poulter, and Michael Shader.
"This is our seventh collaboration with Dallas Sonnier, the producer of Bone Tomahawk and Brawl In Cell Block 99," said RLJE Films chief acquisitions officer Mark Ward. "With a Black List script by Henry Dunham and a talented cast led by James Badge Dale, we are confident we will not disappoint genre enthusiasts at this year's Midnight Madness at TIFF."
Ward and Jess De Leo of RLJE Films negotiated the deal with Sonnier and UTA Independent Film Group on behalf of Cinestate and the filmmakers.