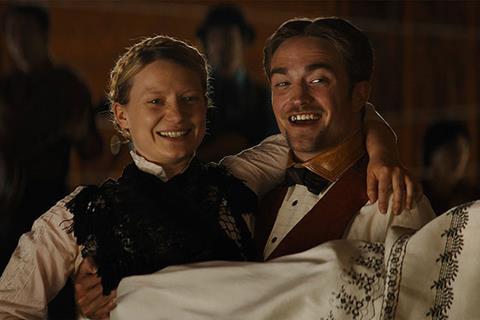 Magnolia Pictures has partnered with Great Point Media on US rights to the Zellner brothers' offbeat Western Damsel starring Robert Pattinson and Mia Wasikowska, which plays on Monday (March 12) at SXSW.
Damsel premiered at Sundance and screened in Berlin last month. Pattinson plays an affluent pioneer who traverses the Wild West to find the love of his life (Wasikowska).
David Zellner also stars and directed with his brother Nathan. The brothers produced with Chris Ohlson.
Magnolia plans a summer theatrical release and brokered the deal with ICM Partners on behalf of the filmmakers. Great Point Media financed the feature.
"We've been incredibly fortunate working with Great Point Media in making Damsel and are thrilled to be partnering with Magnolia for the release, their enthusiasm means so much to us," the Zellners said. "Robert and Mia are amazing in the film and doing things we've not seen them do before. It's meant to be seen big and loud, and we're excited that it will have a proper life on the silver screen before being (lovingly) watched on iPhones while multitasking."
"Damsel is hugely enjoyable, packed with stellar performances," Magnolia president Eamonn Bowles said. "It delivers real genre pleasures while turning the western on its head. We are longtime fans of the Zellners, and excited to be working with them and Great Point Media on this singular film."