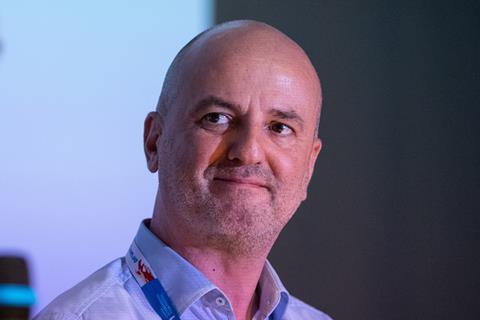 In a surprise move, Eurimages' veteran executive director Roberto Olla has confirmed he is to leave his post next month.
Olla will take up a new job as head of the human dignity and gender equality department at the Council of Europe at the start of November.
Based in Strasbourg, Eurimages is the Council of Europe fund for cinema co-production, theatrical distribution and exhibition.
It is not yet clear when Olla's successor will be appointed. However, even if there is a delay in replacing him, the fund is expected to continue running smoothly under deputy executive director Enrico Vannucci.
Olla has been at its helm since July 2008 having joined the organisation as a project manager for feature films in 2002. He has overseen expansion and change, opening up the fund to non-European countries, while also attempting to make the organisation "less distant and bureaucratic".
"What I tried to do in general terms was to modernise the secretariat that I inherited at Eurimages and to make it more efficient and, above all, closer to the film profession," Olla said of his 13-year stint at the organisation.
Eurimages now includes 41 member states, among them Canada which has had 'associate member' status since March 2017. That is a sharp increase on the 12 members in the organisation – which was founded in 1989 – in its earlier years. It now has a budget of around €27.5m a year.
In his time at Eurimages, Olla has overseen the revision of the Europe Convention on Cinematographic Co-production to make it more flexible. He helped introduce the Eurimages Lab Project Award which is presented at four festivals.
Olla also oversaw the introduction of a new collection account management agreement system to ensure films that were successful could repay the soft loans they received through the fund. Since 2012, he has ensured the organisation has pursued a gender equality strategy and been involved in setting up the new system of governance of the Fund, due to start from January 1, 2022, that will guarantee decisions on which projects to back are made by independent external experts.

"Professionally, I needed new challenges and I think there is so much to be done in the gender equality [field] and fighting violence against women," Olla said of the move. "I have the same passion for this cause as for cinema. That is what motivated my decision to leave the cinema sector."
Olla said he hoped to continue to attend festivals – but now as a cinemagoer.