The film crews behind High-Rise, Rogue One, Victoria and Game Of Thrones scoop up awards at inaugural ceremony.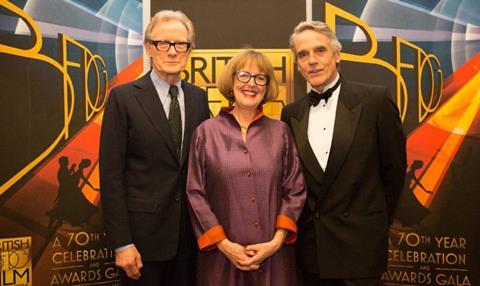 On Saturday January 28, the British Film Designers Guild (BFDG) held its inaugural awards ceremony at Pinewood Studios.
The film crews behind films High-Rise and Rogue One and TV series Victoria and Game Of Thrones were among those to scoop awards.
The awards were presented by Bill Nighy and Jeremy Irons, with the latter making a moving tribute to John Hurt.
Liz Griffiths, who produced the event, said: "The quality of the nominations for crew and the high calibre of films and TV productions has proved yet again that the UK is still the leader in this field and that the BFDG members are central to this amazing knowledge and skill base respected around the world."
The lifetime achievement award went to production designer Gemma Jackson, the three-time winner of the Art Directors Guild excellence in production design award for her work on Game Of Thrones and the mini-series John Adams.
This year marked the 70th anniversary of the guild's formation.
THE WINNERS
BEST PRODUCTION DESIGN - BRITISH TV DRAMA INCLUDING A MINI SERIES
Victoria
Michael Howells - production designer, Fabrice Spelta - supervising art director, Tanya Bowd - set decorator
BEST PRODUCTION DESIGN - INDEPENDENT FEATURE FILM
High-Rise
Mark Tildesley - production designer, Frank Walsh - supervising art director, Paki Smith - set decorator
BEST PRODUCTION DESIGN - INTERNATIONAL TV DRAMA INCLUDING A MINI SERIES
Game Of Thrones (Series 6)
Deborah Riley - production designer, Paul Ghirandani and Christina Moore - supervising art directors, Rob Cameron and Sophie Chowdhury - set decorators
BEST PRODUCTION DESIGN - INTERNATIONAL STUDIO FEATURE FILM
Rogue One: A Star Wars Story
Neil Lamont and Doug Chaing - production designers, Alastair Bullock - supervising art director, Lee Sandales - set decorator
SPOTLIGHTING NEW TALENT
Alina Papp
LIFETIME ACHIEVEMENT
Gemma Jackson