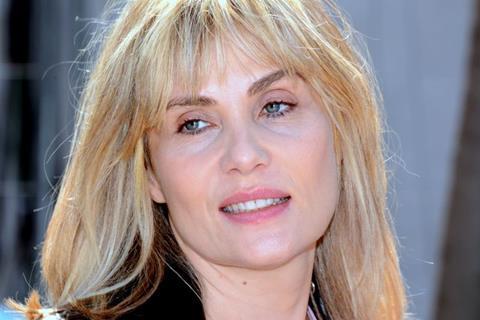 French actress Emmanuelle Seigner has publicly rejected an invitation from the Academy of Motion Pictures Arts and Scientists (AMPAS) to become a member of the prestigious institute which expelled her husband Roman Polanski earlier this year in connection with sexual abuse allegations.
In an open letter published in French Sunday newspaper Le Journal du Dimanche, the actress described AMPAS's invitation as an "insulting proposal" and accused the institution of "hypocrisy".
Oscar-winning director Polanski, Seigner's husband of 29-years, was officially expelled from the Academy in May in connection with charges of unlawful sex with a 13-year-old dating back to the 1970s.
Seigner – whose more recent credits include Venus in Fur and Stalin's Couch – was among 928 people hailing from 59 countries invited to join the Academy in June in a recruitment drive aimed at boosting diversity.
Seigner accused the Academy of expelling 84-year-old Polanski "to satisfy the prevailing mood of the moment".
"The American Academy of Motion Pictures Arts and Scientists has invited me to join, in the company of other actresses, in the name of a much-needed drive to increase female numbers. There's no one out there who can believe I'm not interested in achieving equality between women and men."
"I've always been a feminist but how can I ignore the fact that a few weeks ago the Academy showed my husband Roman Polanski the door to satisfy the prevailing mood of the moment. The same Academy that awarded him the best director Oscar for The Pianist in 2003. It's a strange case of amnesia!"
"This Academy probably thinks that I'm enough of a careerist actress, without character, to forget that I've been married for the last 29 years to one of the world's greatest directors. I love him. He is my husband and the father of my children," she continued. "He's been rejected like a pariah and invisible academicians seem to think that I would climb its glorious steps behind his back. It's intolerable, hypocrisy."
Seigner went on to defend Polanski's record as a director and creator of numerous "unforgettable female characters" interpreted by actress including his late second wife Sharon Tate, Catherine Deneuve, Mia Farrow, Faye Dunaway, Nastassja Kinski and Sigourney Weaver.
"There is nothing in him that corresponds to this macho caricature, or example of an evil that has ravaged the cinema world," she said.
Seigner's rejection of the AMPAS invitation is the latest episode in the long-running saga of Polanski's fall from grace over accusations that he drugged and raped 13-year-old Samantha Geimer while she was in his charge for a Vogue photo shoot at actor-friend Jack Nicholson's house in Los Angeles in 1977.
Having agreed a plea bargain on the less serious charge of unlawful sexual intercourse, Polanski fled to France from the US in 1978 ahead of his formal sentencing, fearing he was about to receive an overly harsh sentence for the crime.
The case has divided the film industry but the tide of public opinion in France has increasingly turned against the director and his actions in recent years. Last year, Polanski was forced to turn down an invitation to preside over France's César film awards after women's groups called for a boycott of the ceremony and a petition calling for the invitation to be withdrawn drew 60,000 signatures.