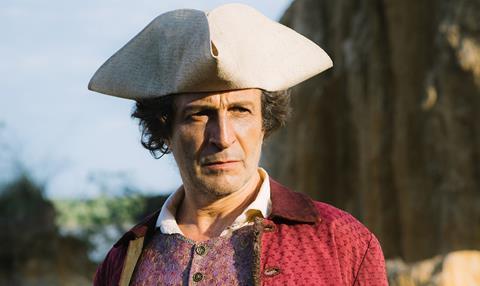 The Oscar nominations are not announced until January 23, but the race has already begun in the best foreign-language film category.
Last year there were 85 films in the longlist of entries for consideration in the category – a record-breaking number – before the contenders were whittled down to a nine-strong longlist and, eventually, the five nominees put forward to the final Oscar vote: Denmark's Land Of Mine, Sweden's A Man Called Ove, Australia's Tanna, Germany's Toni Erdmann and eventual winner, The Salesman from Iran.
For insight into how the shortlisting process works, read Screen's 2015 interview with producer Mark Johnson, chairman of AMPAS's foreign-language film award committee.
Screen is keeping track of this season's submissions as they are announced below:
Europe
Belgium: Racer And The Jailbird (Michaël R Roskam)
The film, about a racetrack romance between a driver and gangster, received its world premiere in Venice and also screened at Toronto. Director Michaël R Roskam's debut feature Bullhead was nominated for the foreign language Oscar in 2012. Wild Bunch is handling international sales, with Neon releasing in the US later this year.
Bosnia and Herzegovina: Men Don't Cry (Alen Drljevic)
The film, set two decades after the war ended in Yugoslavia, follows a diverse group of veterans who gather at a remote mountain hotel to undergo group therapy. Men Don't Cry premiered at Karlovy Vary, where Picture Tree International boarded international rights.
Bulgaria: Glory (Petar Valchanov and Kristina Grozeva)
Inspired by true events, this tragicomedy charts the story of a railroad worker who finds millions in cash on the tracks and turns the money in to the police. The film premiered at the Locarno Film Festival in 2016 and went on to play at other festivals including Edinburgh. Film Movement has US and English-speaking Canadian rights.
Croatia: Quit Staring At My Plate (Hana Jušić)
This Croatian-Danish drama is the debut of Hana Jušić and premiered in the Venice Days section at the Venice Film Festival. It stars Mia Petricevic as a young woman who despairs of her cramped family life. New Europe Film Sales are international sales.
Czech Republic: Ice Mother (Bohdan Sláma)
Bohdan Slama's film about a grandmother who goes through a series of life changing events had its international premiere at the Tribeca Film Festival, where it won the best screenplay award. It also screened at Sydney, Karlovy Vary and Vancouver. The Match Factory Are Handling International Sales.
Denmark: You Disappear (Peter Schønau Fog)
Peter Schønau Fog's second feature film is based on Christian Jungersen's novel about a headmaster (played by Nikolaj Lie Kaas) who is suffering from a brain tumour. TrustNordisk are handling international sales.
Finland: Tom Of Finland (Dome Karukoski)
Dome Karukoski's drama chronicles the life and times of the titular Finnish, gay artist. Aleksi Bardy wrote the screenplay for the film, which tells the life story of Touko Laaksonen, a man who would become known around the world by his nom de guerre "Tom Of Finland". The film opened this year's Goteborg Film Festival. Protagonist Pictures handle sales. Kino Lorber picked up US rights and will open on October 13, while Peccadillo Pictures released in August in the UK.
France: BPM (Beats Per Minute) (Robin Campillo)
BPM won the Grand Prix at Cannes in May and is inspired by the history of the Paris branch of the AIDs activist group ACT UP in the early 1990s, when the French government was perceived as lagging behind in its response to the epidemic. Paris-based sales company Playtime, formerly known as Films Distribution, has sold the film into some 40 territories including the US (The Orchard) and the UK (Curzon-Artificial Eye).
Germany: In The Fade (Fatih Akin)
Fatih Akin's thriller earned Diane Kruger the best actress award at Cannes for her portrayal of a women seeking justice after her husband and son die in a terrorist attack. The film screened at Toronto and The Match Factory handles international sales. Magnolia Pictures will release in the US.
Greece: Amerika Square (Yannis Sakaridis)
Yannis Sakaridis' second film premiered at the Busan International Film Festival and will have its US premiere this autumn. Amerika Square follows two friends, a tattoo artist and a "banal" Greek racist, who come together in Athens' Plateia Amerikis (America Square) because of the journey of a Syrian refugee. World sales are handled by Patra Spanou Film Marketing & Consulting.
Hungary: On Body And Soul (Ildikó Enyedi)
Director Ildikó Enyedi's Golden Bear winner follows two people working at an abbatoir, who both dream themselves as deers in love at night but find that finding that love in real life is more difficult. On Body And Soul's world sales are handled by Films Boutique.
Iceland: Under The Tree (Hafsteinn Gunnar Sigurdsson)
Hafsteinn Gunnar Sigurdsson's third feature is black comedy about spiralling domestic tensions concerning a suburban tree. The film screened at Toronto and Venice. New Europe Film Sales are handling international sales, with Magnoilia picking up North American rights.
Ireland: Song Of Granite (Pat Collins)
Pat Collins' (Silence) SXSW hit tells the life story of seannós singer Joe Heaney, interweaving narrative and documentary film. The film features performances by Lisa O'Neill, Damien Dempsey, Seamus Begley. Oscilloscope are releasing the film in the US.
Italy: A Ciambra (Jonas Carpignano)
This update of Carpignano's 2014 short about a Romani boy who struggles to keep his family together and repay his brother's debt featured in Directors' Fortnight at this year's Cannes Film Festival, where it won the Europa Cinemas Label Award. RT Features produced and financed A Ciambra through their joint venture with Martin Scorsese's Sikelia Productions which aims to produce films from emerging filmmakers worldwide.
Kosovo: Unwanted (Edon Rizvanolli)
Actor-turned-director Edon Rizvanolli's feature debut is a social drama about a teenage boy who lives in exile in Holland with his mother. Produced by 1244 Productions and Asfalt Films, the feature premiered at Karlovy Vary.
Netherlands: Layla M. (Mijke de Jong)
This Islamic extremism drama follows a Dutch-Moroccan teenager who is radicalized by anti-Muslim policies in the Netherlands. The film premiered at the 2016 Toronto Film Festival and Netflix snapped up international rights.
Norway: Thelma (Joachim Trier)
Joachim Trier's fourth feature opened the Norwegian Film Festival last month, screened in Toronto and is due to play New York in September. The supernatural thriller follows the titular Oslo student and her attraction to another woman, which draws overwhelming emotions and inexplicable powers into the open. Memento Films International is handling international sales.
Poland: Spoor (Agnieszka Holland)
Agnieszka Holland's latest premiered in competition at this year's Berlin Film Festival. It follows an elderly woman who lives alone in the Klodzko Valley, where a series of mysterious crimes are committed. Despite being convinced that she knows who or what is the murderer, nobody believes her. Beta Cinema has world sales rights.
Romania: The Fixer (Adrian Sitaru)
The Fixer follows a trainee journalist who gets a chance to prove himself with a story about a scandal involving an underage prostitute, though finds himself reaching his moral limits as a result. Adrian Sitaru's film premiered at last year's Toronto. MPM Film represents the film internationally.
Russia: Loveless (Andrey Zvyagintsev)
The film was part of the official selection at this year's Cannes Film Festival, winning the Jury Prize. Zvyagintsev's previous film, Leviathan, was also submitted by Russia for the 2015 Oscars, where it made the five-film shortlist.
Serbia: Requiem For Mrs J (Bojan Vuletić)
Vuletić's black comedy about a widow planning to commit suicide on the anniversary of her husband's death premiered at Berlin's Panorama sidebar. It is produced by SEE Film Pro, Geopoly, Skopje Film Studio, Non-Stop Production and Surprise Alley. Soul Food, Belgrade is handling world sales.
Slovenia: Miner (Hanna Slak)
The film is inspired by the autobiography of the miner Mehmedalija Alić (Leon Lučev), who fights for a decent burial of the victims of post-World War II executions. Miner won three Vesna Awards at the Festival of Slovenian Film for best direction, best editing, and best actor.
Spain: Summer 1993 (Carla Simón)
The first film from Carla Simón won the best feature and first feature awards after premiering at Berlin's Generation Kplus. It follows an orphan in 1993 Catalonia who goes to live with her uncle's family following the death of her mother. Worldwide sales are handled by New Europe Film Sales.
Sweden: The Square (Ruben Östlund)
Ruben Östlund's art-world satire won the Palme d'Or in Cannes and played as a Special Presentation at Toronto. Magnolia pre-bought US rights in September 2016 and plans a New York and Los Angeles release on October 27 ahead of a national roll-out.
Switzerland: The Divine Order (Petra Volpe)
The period drama, set in 1971, follows a housewife who embarks on a campaign for women's voting rights. It received its international premiere at the Tribeca Film Festival and won the audience award for narrative as well as best actress in an international feature for Marie Leuenberger. TrustNordisk handles international sales and Zeitgeist Films will release in the US in association with Kino Lorber.
Turkey: Ayla: The Daughter Of War (Can Ulkay)
Can Ulkay's debut feature is set in 1950 during the Korean war, where a Turkish soldier decides to care for an abandoned five-year-old girl. It is due for release in Turkey in October, and is produced by Turkish company Digital Sanatlar.
United Kingdom: My Pure Land (Sarmad Masud)
British-Pakistani director Sarmad Masud's debut is the first Urdu-language film to be Britain's selection for the category and tells the true story of a mother and her two daughters who survived a siege on their home by relatives in rural Pakistan. My Pure Land is produced by Bill Kenwright Films with Independent handling international sales.
Middle East and Africa
Afghanistan: A Letter To The President (Roya Sadat)
Sadat's debut feature revolves around a female public official who tries save a woman accused of adultery from the justice of a clan, only to be arrested and put on death row herself. The film played in the Open Doors section at Locarno and will also screen at the upcoming Busan International Film Festival.
Egypt: Sheikh Jackson (Amr Salama)
FIPRESCI winner Amr Salama's feel-good Michael Jackason-themed film nabbed the Egyptian Oscar nomination on the eve of its world premiere in Toronto. The film is co-produced by Film Clinic and The Producers and stars Ahmad Alfishawy and Ahmed Malek.
Iraq: The Dark Wind (Hussein Hassan)
A love story set against the backdrop of the Yazidi genocide, The Dark Wind premiered as the closing film of last October's Busan International Film Festival. The film also won the UNESCO cultural diversity award at the 2016 Asia Pacific Screen Awards.
Israel: Foxtrot (Samuel Maoz)
Maoz's follow-up to Lebanon concerns a couple who learn about their solder son's fate at an isolated checkpoint. The film won eight Ophir Awards in September and earned acclaim on the autumn festival tour, winning the grand jury prize in Venice. SPC holds rights for North America, Latin America and Scandinavia.
Lebanon: The Insult (Ziad Doueiri)
Doueiri's film centres on a simple dispute between Toni, a Lebanese Christian, and Yasser, a Palestinian refugee and building site foreman, over a trivial plumbing issue. It won Palestinian actor Kamel El Basha, one of the film's two male leads, the Coppa Volpi for Best Actor in Venice.
The director ran into trouble after returning from the festival when he was detained by Lebanese authorities who accused him of shooting some scenes from his previous film The Attack in Israel. He was released and attended Toronto with the film.
Morocco: Razzia (Nabil Ayouch)
The streets of Casablanca provide the centrepiece for five separate narratives in Nabil Ayouch's social drama, which received its world premiere at the Toronto International Film Festival. Three of Ayouch's previous films have been put forward by Morocco as its Oscar submission – Mektoub (1998), Ali Zaoua: Prince Of The Streets (2000), and Horses Of God (2013).
Palestine: Wajib (Annemarie Jacir)
Annemarie Jacir's wry father and son comedy-drama premiered in competition in Locarno over the summer, where it was warmly received by critics and won three independent awards, the FICC/IFFS Prize, the Youth Jury Environment Prize, and the ISPEC Cinema Award. Paris-based Pyramide International handles sales.
Tunisia: The Last Of Us (Ala Eddine Slim)
The Last Of Us premiered at Venice in 2016, where it won the Lion of the Future – 'Luigi De Laurentiis' award for a debut film. The dialogue-free project is the story of an immigrant's voyage towards Europe and was released in Tunisia in April.
Americas
Argentina: Zama (Lucrecia Martel)
Lucrecia Martel's period drama premiered in Venice and screened in Toronto before Strand Releasing announced in late September it had acquired North American rights. Daniel Gimenez Cacho stars as an officer in the late 18th century who succumbs to lust and paranoia as he awaits transfer from a remote South American colony. The Match Factory handles international sales.
Canada: Hochelaga, Land Of Souls (François Girard)
Hochelaga premeired at the Toronto International Film Festival recently and spans 750 years and five stories set on the site of Montreal that link an Iroquoian massacre in 1267, Jacques Cartier's first voyage in 1535, the purple fever epidemic in 1687, the Patriots uprising in 1837 and brain surgery at the Montreal Neurological Institute in 1944. Girard (The Red Violin) wrote and directed. Seville International handles sales outside Canada, where Les Films Seville distributes.
Chile: A Fantastic Woman (Sebastian Lelio)
This story of a transgender woman dealing with the death of her partner won the Silver Bear for best script and the Teddy Award after premiering at the Berlin Film Festival. The film stars transgender actress and singer Daniela Vega.
Dominican Republic: Woodpeckers (José María Cabral)
José María Cabral's prison romance was the first film from the Dominican Republic to play at Sundance, where it competed for the grand jury prize this year. It also played at Seattle, Miami and Guadalajara, where it won three awards. Film Factory have boarded for worldwide sales, with AZ films and Outsider Pictures acquiring distribution rights for America and Canada respectively.
Mexico: Tempestad (Tatiana Huezo)
Huezo's hard-hitting documentary follows two connected narratives of women who have suffered the brutal consequences of human trafficking in Mexico. Jim Jarmusch collaborator Jim Stark (Down by Law) is executive producer alongside brothers Nicolas and Sebastian Celis, producers of Alfonso Cuaron's latest film, Roma.
Paraguay: The Gold Seekers / Los Buscadores (Juan Carlos Maneglia and Tana Schembori)
The directors' follow-up to 7 Boxes (7 Cajas) is an adventure thriller smash that has already outstripped It on close to 100,000 ticket sales. The story follows a young man who tries to unearth buried treasure on the site of an embassy. FilmSharks handles world sales.
Asia
Bangladesh: Khacha (Akram Khan)
This drama is set against the backdrop of the 1947 partition of India and Pakistan and stars Mamunur Rashid, Azad Abul Kalam and Jaya Ahsan. It was produced by Impress Telefilms. Bangladesh has not yet secured a nomination in the category.
Cambodia: First They Killed My Father (Angelina Jolie)
Cambodian author and human rights activist Loung Ung recounts the horrors she suffered as a child under the rule of the deadly Khmer Rouge. The Netflix-backed drama premiered in Cambodia earlier in the year and screened at the Telluride Film Festival before playing in Toronto. It is due to get a small theatrical run in the US.
China: Wolf Warrior 2 (Wu Jing)
Wu Jing's patriotic blockbuster has made an astonishing $851,645,984 in China so far, making it the highest grossing film of all time in the territory. Wu Jing also stars in the lead role alongside Celina Jade, Frank Grillo, Hans Zhang and Wu Gang. Captain America directors Joe and Anthony Russo consulted on the project.
Hong Kong: Mad World (Wong Chun)
This debut feature picked up three awards, including best new director, best supporting actor for Eric Tsang and best supporting actress for Elaine Jin at the Hong Kong Film Awards in April. The film tells the story of a former stockbroker living with his father (Tsang) in a tiny apartment following an episode of mental illness. Three other films were under consideration: Chasing the Dragon, Ferryman and Soul Mate.
India: Newton (Amit Masurkar)
Masurkar's second feature stars Rajkummar Rao and Anjali Patil in the story of a recently appointed government clerk who struggles to conduct fair elections in the conflict-ridden jungles of Chhattisgarh. The well-traveled Hindi-language film, locally released this week, won the CICAE award in Berlin earlier this year and the jury prize at the Hong Kong International Film Festival.
Japan: Her Love Boils Bathwater (Ryota Nakano)
This film follows a terminally ill woman who tries to put her affairs in order as she searches forher husband and tries to put her daughter on the right path. Ryoya Nakano's film won three Japan Academy prizes earlier this year, including best actress forRie Miyazawa. Hakuhodo DY Music & Pictures Inc. are handling worldwide sales.
Laos: Dearest Sister (Mattie Do)
Laos selected Mattie Do's Dearest Sister as its first ever Oscar entry. Co-produced by Lao Art Media, France's Screen Division and Estonia's Oree Films, the thriller was selected for Cannes' La Fabrique des Cinémas du Monde programme in 2014 and received its world premiere at Austin's Fantastic Fest in September 2016.
Nepal: White Sun (Deepak Rauniyar)
Deepak Rauniyar's second feature tells the story ofa family divided by civil war who come together to lay their father to rest. The film travelled the 2016 festival circuit widely, premiering at the Venice Film Festival and winning the Interfilm award at Toronto. The Match Factory represents international rights.
Pakistan: Saawan (Farhan Alam)
Based on real events that highlight societal injustices, Farhan Alam's drama is set in the remote deserts and revolves around and a nine-year old disabled boy who is rejected by his father, intimidated by society and harassed by friends before beginning a perilous journey to reunite with his family. The film was written and produced by Mashood Qadri through production company KalakarFilms.
Philippines: Birdshot (Mikhail Red)
24-year-old director Mikhail Red's film premiered last year at the Tokyo International Film Festival, where it won top prize in the Asian Future section. The projects tells the story of a girl who accidently shoots a rare eagle and was produced by PelikulaRED, Tuko Film Productions, Buchi Boy Films and CJ Entertainment.
Singapore: Pop Aye (Kirsten Tan)
Pop Aye won the world cinema dramatic special jury award for screenwriting at this year's Sundance, as well as the VPRO big screen award at International Film Festival Rotterdam. Set in Thailand, it stars Thaneth Warakulnukroh as a down and out architect who is reunited with his childhood elephant and embarks on a road trip across the Thai countryside. Cercamon World Sales are handling international sales.
South Korea: A Taxi Driver (Hun Jang)
Hun Jang's story of a taxi driver who takes a Germanreporter from Seoul to Gwangju to cover the 1980 uprising has been a smash hit in South Korea, passing 10million admissions and taking more than $70m at the local box office, making it the country's highest grossing film of the year. Well Go USA Entertainment picked up US rights.
Taiwan: Small Talk (Hui-Chen Huang)
Hui-Chen Huang's feature won the Teddy Award for best documentary at the Berlin International Film Festival earlier this year. The film is a meditative exploration into Huang and her lesbian mother A-nu's past. Small Talk was selected ahead of Midi Z's The Road to Mandalay and Hsien-Jer Chu's White Ant.
Vietnam: Father And Son (Luong Dinh Dung)
Luong Dinh Dung's film is based on the director's short story about a young boy who falls ill and is taken on a journey to see all the sights he has wanted to see. It won the won the best cinematography award at the Milano International Film Festival, the best foreignfeature and special jury awards for cinematography at the Arizona Film Festival, and the best storyline award at the Boston Film Festival.
Oceania
New Zealand: One Thousand Ropes (Tusi Tamesese)
This Samoan-language film is director Tamesese's second Oscar submission in the category. The story of a Samoan family living in suburban New Zealand, it had its world premiere in the Panorama section at the 2017 Berlin Film Festival.