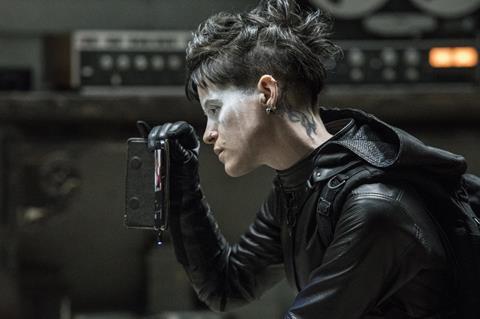 The 13th Rome Film Fest (18-28 October) has unveiled its line-up. It will feature in its non-competitive official selection 38 films, including the world premieres of Fede Alvarez's The Girl In The Spider's Web with Claire Foy and Gilles De Maistre's Mia Et Le Lion Blanc, featuring Melanie Laurent.
Scroll down for the full line-up
Opening with Drew Goddard's Bad Times At El Royale, Antonio Monda's fourth edition confirms itself as a "fest" and not a "festival" as the director specifies. "Whoever comes here expecting a festival will be disappointed, this is a fest," he said at the line-up press conference.
Other hot titles include a two episode preview of Park Chan-Wook new series The Little Drummer Girl, Barry Jenkins' new film If Beale Street Could Talk, David Gordon Green's Halloween, Jon S. Baird's Stan & Ollie and Robert Redford's The Old Man And The Gun.
Traditionally very selective with Italian cinema, Monda has included local titles The Vice Of Hope by Edoardo De Angelis (Inseparable) and Notti Magiche by Paolo Virzì (The Leisure Seeker), which is closing the festival.
The event will feature one special guest per day on the stage talking to Monda in the Close Encounters section. Already announced guests include Martin Scorsese, Isabelle Huppert, Cate Blanchett, Sigourney Weaver, writer Pierre Bismuth and Michael Moore (bringing Fahrenheit 11/9 to the festival), Alice and Alba Rohrwacher, novelist Jonathan Safran Foer, Thierry Fremaux and Giuseppe Tornatore: "All of these talents will come to celebrate cinema and talk about movies" said Monda, "not necessarily promoting a film".
Retrospectives on Maurice Pialat and Peter Sellers are also part of the celebrations.
At the press conference Monda was asked Alberto Barbera calling the Rome Film Fest a "local event". "A lapse in taste from a director I admire," he said. "A fest that features artists such as Martin Scorsese, Cate Blanchett and Isabelle Huppert and in the previous editions Tom Hanks, Meryl Streep, David Lynch, Don DeLillo, Chuck Palahniuk etc. etc. doesn't look like a local one".
He added: "Venice is erroneously perceived as the place where Oscar movies go. Let's not forget that it was us who put Moonlight as opening film."
With a budget of around €3m the Rome Film Fest is produced by Fondazione Cinema Per Roma and promoted by the municipality and the chamber of commerce of Rome, Lazio region, Fondazione Musica Per Roma and the Ministry of Culture through Istituto Luce Cinecittà.
Official Selection
Opening Film: Bad Times At The El Royale (Drew Goddard)
American Animals (Bart Layton)
Bayoneta (Kyzza Terrazas)
Beautiful Boy (Felix Van Groeningen)
Corleone Il Potere Ed Il Sangue, Corleone La Caduta (Mosco Levi Boucault)
Correndo Atrás | Running After (Jeferson De)
Diario Di Tonnara (Giovanni Zoppeddu)
Fahrenheit 11/9 (Michael Moore)
Eter | Ether (Krzysztof Zanussi)
Før Frosten | Before The Frost (Michael Noer)
Funan (Denis Do)
Green Book (Peter Farrelly)
The Girl In The Spider's Web (Fede Álvarez)
Halloween (David Gordon Green)
The Hate U Give (George Tillman Jr.)
Hermanos | Brothers (Pablo Gonzaléz)
The House With A Clock In Its Walls (Eli Roth)
If Beale Street Could Talk (Barry Jenkins)
An Impossibly Small Object (David Verbeek)
Jan Palach (Robert Sedlácek)
Kursk (Thomas Vinterberg)
Light As Feathers (Rosanne Pel)
The Little Drummer Girl (Park Chan-Wook)
Mere Pyaare Prime Minister | My Dear Prime Minister (Rakeysh Omprakash Mehra)
Monsters And Men (Reinaldo Marcus Green)
La Negrada | Black Mexicans (Jorge Pérez Solano)
Mia Et Le Lion Blanc | Mia And The White Lion (Gilles De Maistre)
Las Niñas Bien | The Good Girls (Alejandra Márquez Abella)
The Old Man & The Gun (David Lowery)
Powrót | Back Home (Magdalena Łazarkiewicz)
A Private War (Matthew Heineman)
Sangre Blanca | White Blood (Barbara Sarasola-Day)
Stan & Ollie (Jon S. Baird)
They Shall Not Grow Old (Peter Jackson)
Three Identical Strangers (Tim Wardle)
Titixe (Tania Hernández Velasco)
Il Vizio Della Speranza | The Vice Of Hope (Edoardo De Angelis)
Watergate (Charles Ferguson)
Closing Film: Notti Magiche (Paolo Virzì