Guests attending this year to include Bernardo Bertolucci, Don DeLillo, Ralph Fiennes.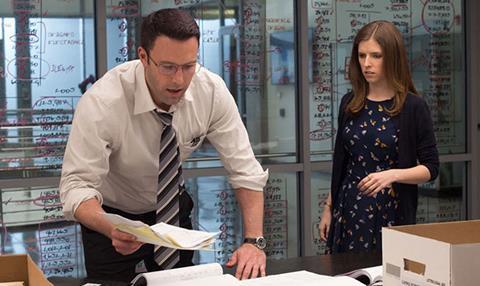 Scroll down for full line-up
The Rome Film Festival (Oct 13-23) has revealed its line-up for 2016.
The festival will present 44 films and documentaries in its official programme, selected from 26 countries.
Rome will open with Barry Jenkins' Moonlight, which premiered in Toronto.
Further titles in the Official Selection include Gavin O'Connor's The Accountant [pictured], starring Ben Affleck and Anna Kendrick, Nate Parker's The Birth Of A Nation, Kenneth Lonergan's Manchester By The Sea, and Oliver Stone's Snowden.
The festival's previously announced Alice In The City line-up will include John Carney's Sing Street and Matt Ross's Captain Fantastic.
The Everybody's Talking About It strand, which highlights films that has generated exceptional buzz following their international debuts, will showcase Yeon Sang-ho's Train To Busan, Michael Grandage's Genius, David Mackenzie's Hell Or High Water, and Michael Dudok de Wit's The Red Turtle.
As previously announced, guests at this year's festival will include Tom Hanks, Meryl Streep and Oliver Stone. Also attending will be Ralph Fiennes, Juliette Binoche and Kristin Scott Thomas who will be in town to present a screening of the Oscar-winning classic The English Patient. Canadian singer Michael Bublé will present documentary Michael Bublé – Tour Stope 148, directed by Brett Sullivan.
Other industry set to attend the festival's Close Encounters strand (the discussions programme with key industry) include Italian cultural icon Renzo Arbore, Oscar-winning actor Roberto Benigni, director Bernardo Bertolucci, and American novelist Don DeLillo.
Official Selection
7 MINUTI
by Michele Placido, Italy, France, Switzerland, 2016, 92'
7.19AM
by Jorge Michael Grau, Mexico, 2016, 96'
THE ACCOUNTANT
by Gavin O'Connor, United States, Canada, 2016, 128'
THE BIRTH OF A NATION
by Nate Parker, United States, 2016, 119'
LA CAJA VACÍA / THE EMPTY BOX
by Claudia Sainte-Luce, France, Mexico, 2016, 101'
DENIAL
by Mick Jackson, United States, United Kingdom, 2016, 110'
THE EAGLE HUNTRESS
by Otto Bell, United Kingdom, Mongolia, United States, 2016, 87' | Doc |
LA FILLE DE BREST / 150 MILLIGRAMS
by Emmanuelle Bercot, France, 2016, 128'
AL FINAL DEL TÚNEL / AT THE END OF THE TUNNEL
by Rodrigo Grande, Argentina, Spain, 2016, 120'
FLORENCE FOSTER JENKINS / FLORENCE
by Stephen Frears, United Kingdom, 2016, 110'
FRITZ LANG
by Gordian Maugg, Germany, 2016, 104'
GOLDSTONE
by Ivan Sen, Australia, 2016, 110'
THE HOLLARS
by John Krasinski, United States, 2016, 88'
INTO THE INFERNO
by Werner Herzog, United Kingdom, Austria, 2016, 104' | Doc |
IRRÉPROCHABLE / FAULTLESS
by Sébastien Marnier, France, 2016, 103'
JAVDANEGI / IMMORTALITY
by Mehdi Fard Ghaderi, Iran, 2016, 151'
THE LAST LAUGH
by Ferne Pearlstein, United States, 2016, 89' | Doc |
LION
by Garth Davis, Australia, United Kingdom, United States, 2016, 129'
MANCHESTER BY THE SEA
by Kenneth Lonergan, United States, 2016, 135'
MARIA PER ROMA
by Karen Di Porto, Italy, 2016, 93' | Voices of the Future |
MEDINAT HAGAMADIM / LAND OF THE LITTLE PEOPLE
by Yaniv Berman, Israel, Palestine, 2016, 83'
MOONLIGHT
by Barry Jenkins, United States, 2016, 111'
LA MUJER DEL ANIMAL / THE ANIMAL'S WIFE
by Victor Gaviria, Colombia, 2016, 116'
NAGAI IIWAKE / THE LONG EXCUSE
by Miwa Nishikawa, Japan, 2016, 124'
NAPLES '44 / NAPOLI '44
by Francesco Patierno, Italy, 2016, 80' | Doc |
NOCES / A WEDDING
by Stephan Streker, Belgium, France, Luxembourg, Pakistan, 2016, 95'
POWIDOKI / AFTERIMAGE
by Andrzej Wajda, Poland, 2016, 98'
RICHARD LINKLATER: DREAM IS DESTINY
by Louis Black, Karen Bernstein, United States, 2016, 93' | Doc |
THE ROLLING STONES OLÉ OLÉ OLÉ!: A TRIP ACROSS LATIN AMERICA
by Paul Dugdale, United Kingdom, 2016, 105' | Doc |
SAN SHAO YE DE JIAN / SWORD MASTER 3D
by Tung-Shing 'Derek' Yee, Hong Kong, China, 2016, 104'
THE SECRET SCRIPTURE
by Jim Sheridan, Ireland, 2016, 108'
SNOWDEN
by Oliver Stone, United States, Germany, 2016, 134'
SOLE CUORE AMORE
by Daniele Vicari, Italy, 2016, 113'
TODO LO DEMÁS / EVERYTHING ELSE
by Natalia Almada, Mexico, United States, 2016, 98' | Voices of the Future|
TRAMPS
by Adam Leon, United States, 2016, 82' | Voices of the Future |
LA ÚLTIMA TARDE / ONE LAST AFTERNOON
by Joel Calero, Perù, Colombia, 2016, 81' | Voices of the Future |
UNA
by Benedict Andrews, United Kingdom, 2016, 94'
EVERYBODY'S TALKING ABOUT IT
BUSANHAENG / TRAIN TO BUSAN
by Yeon Sang-ho, South Korea, 2016, 118'
GENIUS
by Michael Grandage, United Kingdom, United States, 2016, 104'
HELL OR HIGH WATER
by David Mackenzie, United States, 2016, 102'
LA TORTUE ROUGE
by Michael Dudok de Wit, France, Belgium, 2016, 80'
IN COLLABORATION WITH ALICE NELLA CITTÀ
CAPTAIN FANTASTIC
by Matt Ross, United States, 2016, 119'
LOUISE EN HIVER / LOUISE BY THE SHORE
by Jean-François Laguionie, France, Canada, 2016, 75'
SING STREET
by John Carney, Irlanda, United Kingdom, United States, 2016, 105'