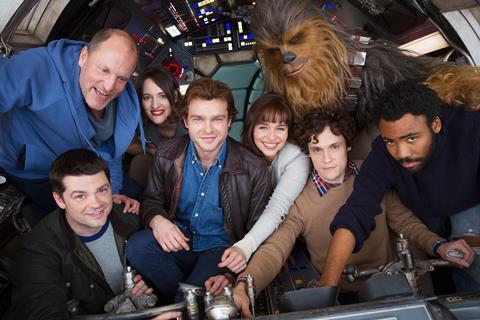 Ron Howard has finally revealed the title of the stand-alone Han Solo movie. The film is now titled Solo: A Star Wars Story.
Howard shared the title as part of a message signaling the end of production on the Han Solo movie, while also thanking the cast and crew for their hard work.
Hey #Twitterville we just wrapped production so here's a special message #StarWars pic.twitter.com/8QJqN5BGxr

— Ron Howard (@RealRonHoward) October 17, 2017
Howard has actively used social media to share teases and first-look images with Star Wars fans since taking over directing duties from Phil Lord and Christopher Miller following their separation from the project due to creative differences.
Solo: A Star Wars Story stars Alden Ehrenreich in the titular role, Donald Glover as Lando Calrissian, Emilia Clarke, Woody Harrelson, Paul Bettany, Phoebe Waller-Bridge and Thandie Newton, and is set to be released on May 25, 2018. The next Star Wars film is two months away, with The Last Jedi opening on December 15.