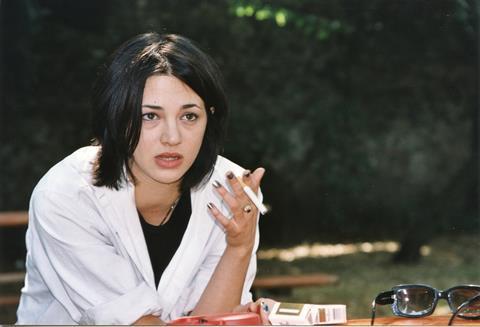 Rose McGowan on Monday (August 20) said her heart was broken after reports surfaced that Asia Argento, a leading light of the #MeToo movement, reportedly settled a sexual assault claim by a former child actor.
McGowan and Argento, who have separately claimed they were raped by Harvey Weinstein, have been among the leading lights of the #MeToo movement that erupted in response to Weinstein's alleged acts.
McGowan tweeted on Monday: "I got to know Asia Argento ten months ago. Our commonality is the shared pain of being assaulted by Harvey Weinstein. My heart is broken. I will continue my work on behalf of victims everywhere."
She later added: "None of us know the truth of the situation and I'm sure more will be revealed. Be gentle."
At time of writing Argento had not commented on Sunday's story in The New York Times that she paid $380,000 to Jimmy Bennett stemming from an encounter in a California hotel room in 2013 when he was 17 and Argento 37. The legal age of consent in the state is 18.
The Times report is based on documents between both parties' legal teams that people close to the case said were authentic.
According to documents Bennett, who played Argento's son in 2004 drama The Heart Is Deceitful Above All Things, initially intended to pursue $3.5m in damages for emotional distress, loss of earnings, and assault and battery.
The documents obtained by the Times reveal that Argento's attorney on the settlement, Carrie Goldberg, wrote: "We hope nothing like this ever happens to you again. You are a powerful and inspiring creator and it is a miserable condition of life that you live among shitty individuals who've preyed on both your strengths and your weaknesses."
As part of the deal, Bennett turned over a photo of himself in bed with Argento and assigned copyright to her.
Weinstein denies all allegations of non-consensual sex and is due to appear in a New York court on September 20 when he will seek to dismiss a criminal indictment against him that includes charges of rape.