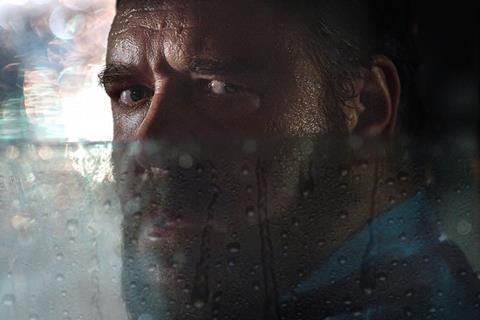 Solstice Studios has set a July 1 US theatrical release for the Russell Crowe thriller Unhinged which, if theatres reopen by then, would make the film the first new release of a summer season already decimated by the coronavirus pandemic.
Christopher Nolan's thriller Tenet remains on the schedule for July 17 through Warner Bros and until Tuesday's (May 12) announcement had been the first new tentpole set to launch, subject to theatres reopening by July.
Unhinged had been set to open on September 4, and while Solstice CEO Mark Gill will be happy to get out of the way after Paramount pushed back A Quiet Place Part II to the same date, there is another reason for opting for July.
Like Tenet and Disney's Mulan after it, Unhinged stands to gain from wide exposure on multiple screens at a time when there is a drought of new films. Solstice is looking to make a splash with its first release since the company launched back in October 2018 and executives will be hoping calculated opportunism delivers just that.
The major US theatre chains have all intimated they are looking at reopening by July, subject to public health guidelines.
International rollout of Unhinged depends on the status of exhibition in each territory and Solstice is understood to be talking to its partners. At time of writing exhibition was opening up or planned to reopen soon in China, Australia, Norway and Sweden, Switzerland, and a large part of Germany, among several others.
Gill said the decision was made after "extensive consultation" with the National Association Of Theatre Owners (NATO) and leading exhibitors, and said the release will comply with all state public health department guidelines.
That means it is likely to include social distancing measures in 25-50% capacity auditoriums, staggered show times to reduce crowding, and more time between each show to allow theatre staff to conduct more thorough cleaning.
Solstice said the move comes as a new poll shows 80% of Americans are willing to return to theatres in July. Screen understands Solstice's data firm conducted a private survey of 1,000 film-goers, however polls have varied on the question of audience confidence. Poll results released last week by Screen Engine/ASI found only 7% of a pool of 27,000 respondents said they felt confident returning to theatres.
"We made this decision after extensive consultation with the National Association of Theaters and leading theater chains," said Gill. "Those conversations have convinced us there is a way to meet pent up demand for the theatrical experience safely."
Unhinged stars Crowe as man who unleashes road rage after a mother leans on her horn by accident. Derrick Borte directed from a screenplay by Carl Ellsworth. Caren Pistorius, Gabriel Bateman, Jimmi Simpson and Austin P. McKenzie also star.