Russia's Ministry of Culture is calling for Phenomen Films, the producer of Ilya Khrzhanovsky's marathon project Dau, to return $340,000 (RUB22.5m) in production funding as well as $120,000 (RUB8m) in interest.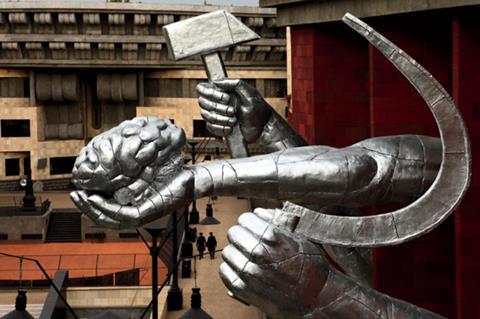 According to the Russian daily newspaper Izvestiya, an Arbitration Court in Moscow has ruled in favour of the Ministry since there appeared to be no sign of the project being completed and the last report on the production's status had been in 2011 when shooting was completed on a specially constructed set in Kharkhov.
The co-production between Russia, Sweden, Germany and France had also received backing from the Swedish Film Institute, Medienboard Berlin-Brandenburg, MDM, Arte France Cinéma, Ukrainian State Film Agency, WDR/Arte, and Eurimages, and was shot at locations in St Petersburg, Moscow,, Baku, London and Copenhhagen as well as the studio set in Kharkhov.
Dau, which was pitched at the CineMart co-production market in Rotterdam in 2006 and presented as a co-production case study at the 2007 edition of connecting cottbus, focuses on the life of the Soviet physicist Lev Landau (1908-1968) who received the Nobel Prize for Physics in 1962.
The screenplay was written by Khrzhanovsky with Vladimir Sorokin, with international sales handled by Paris-based Coproduction Office.
Izvestiya quoted Phenomen Films' lawyer as saying that the Ministry of Culture was the only backer to have recalled its funding for the project whose budget reportedly ballooned from $3.5m to $10m.
Medienboard Berlin-Brandenburg confirmed to ScreenDaily that it had extended its deadline for the project and does not intend to recall its funding.
The Phenomen Films group of companies has a presence in Berlin, Moscow, Kharkov and Kiev, with the Central London-based Phenomen Films UK, employing 50 people on the post-production of ¨a slate of feature films and multiple TV drama series together with a trans media project¨ [i.e. Dau].
In recent job advertisements for positions as assistant editor or in-house Russian-English translator, Phenomen Films' London office explained that ¨experience of working in film/art would be advantageous, but is not a necessity. You will however, need to embrace and thrive in a challenging and busy environment, whilst also being able to adjust to the unpredictable and spontaneous development of such an ambitious arts project.¨