Designer biopic leads the pack with 10 nominations; Kristen Stewart, Marion Cotillard and Juliette Binoche in the running for actress awards.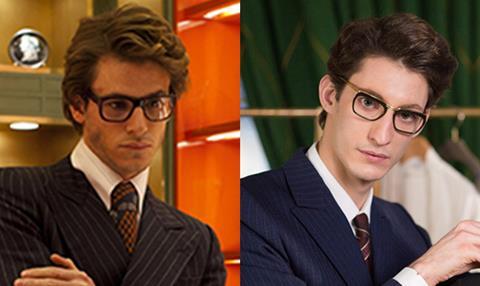 Scroll down for full list of nominees
Bertrand Bonello's Saint Laurent and Olivier Assays' Sils Maria are the hot favourites in France's 40th annual Cesar awards.
France's Academy of Cinema Arts and Sciences unveiled the nominations for this year's César Awards at its traditional news conference at Le Fouquet's restaurant on the Champs Elysées on Friday morning.
Biopic Saint Laurent - exploring fashion designer Yves Saint Laurent's life from 1967 to 1976 - led the pack with 10 nominations including best film, best director for Bonello, best actor for Gaspard Ulliel and best supporting actor for Louis Garrel.
Jalil Lespert's rival biopic, Yves Saint Laurent, secured seven nominations. While it missed out in the best film and director categories, it scored nods with Pierre Niney for best actor, Charlotte Le Bon for best supporting actress and Guillaume Gallienne for best supporting actor.
As well as in the best actor category, the biopics will go head-to-head in the best costume line-up.
Thomas Cailley's directorial debut Love at First Fight secured a surprise nine nominations while Oscar-nominated Timbuktu received eight, including the best film and director for Abderrahmane Sissako.
The nominees for best foreign film include Cannes' Palme d'Or winner Winter Sleep; Golden Globe winner and Oscar favourite Boyhood; last year's best film winner at the Oscars, 12 Years a Slave; and Ida, Mommy, The Grand Budapest Hotel and Two Days, One Night.
As announced on Monday, Sean Penn will receive an honorary Cesar, while director Alain Resnais (who died last March) will be the subject of a tribute at the awards ceremony.
The award ceremony, which will be presided over by comedian Dany Boon, will take place at Paris' Chatelet Theatre on Feb 20 - two days before the Oscars. The host has yet to be announced after actor Laurent Laffite cancelled due to a filming conflict.
Founded in 1976, the César academy gathers more than 4,000 members from across the French film industry and is the second biggest such body after the Oscars Academy
Cesar Awards nominees
Best Film
Love at First Fight
Eastern Boys
The Belier Family
Hippocrates
Saint Laurent
Sils Maria
Timbuktu
Best Director
Celine Sciamma for Girlhood
Thomas Cailley for Love at First Fight
Robin Campillo for Eastern Boys
Thomas Lilti for Hippocrates
Bertrand Bonello for Saint Laurent
Olivier Assays for Sils Maria
Abderrahmane Sissako for Timbuktu
Best Actress
Juliette Binoche for Sils Maria
Marion Cotillard for Two Days, One Night
Catherine Deneuve for Dans la Cour
Emilie Dequenne for Not My Type
Adele Haenel for Love at First Fight
Sandrine Kiberlain for Elle l'Adore
Karin Viard for The Belier Family
Best Supporting Actress
Marianne Denicourt for Hippocrates
Claude Gensac for Lulu in the Nude
Izia Higelin for Samba
Charlotte Le Bon for Yves Saint Laurent
Kristen Stewart for Sils Maria
Best Actor
Niels Arestrup for Diplomatie
Guillaume Canet for Next Time I'll Aim for the Heart
Francois Damines for The Belier Family
Romain Duris for The New Girlfriend
Vincent Lacoste for Hippocrates
Pierre Niney for Yves Saint Laurent
Gaspard Ulliel for Saint Laurent
Best Supporting Actor
Eric Elmosnino for The Belier Family
Guillaume Gallienne for Yves Saint Laurent
Louis Garrel for Saint Laurent
Reda Kateb for Hippocrates
Jeremie Renier for Saint Laurent
Best Original Screenplay
Thomas Cailley, Claude le Pape for Love at First Fight
Victoria Bedos, Stanislas Carre de Malberg, Eric Lartigau and Thomas Bidegain for The Belier Family
Thomas Lilti, Baya Kasmi, Julien Lilti and Pierre Chosson for Hippocrates
Oliver Assayas for Sils Maria
Abderrahmane Sissako, Kessen Tall for Timbuktu
Best Adapted Screenplay
Mathieu Almaric, Stephanie Cleau for The Blue Room
Cyril Gely, Volker Schlondorff for Diplomatie
Solveig Anspach, Jean-Luc Gaget for Lulu in the Nude
Lucas Belvaux for Not My Type
Cederic Anger for Next Time I'll Aim for the Heart
Best Costume
Pierre-Yves Gayraud for The Beauty and the Beast
Carine Sarfati for The Connection
Anais Romand for Saint Laurent
Pascaline Chavanne for The New Girlfriend
Madeline Fontaine for Yves Saint Laurent
Best Set Decoration
Thierry Flamand for The Beauty and the Beast
Jean-Philippe Moreau for The Connection
Katia Wyszkop for Saint Laurent
Sebastian Birchler for Timbuktu
Aline Bonetto for Yves Saint Laurent
Best Cinemaphotography
Christophe Beaucarne for The Beauty and the Beast
Josee Deshaies for Saint Laurent
Yorick le Saux for Sils Maria
Sofian el Fani for Timbuktu
Thomas Hardmeier for Yves Saint Laurent
Best Editing
Lilian Corbielle for Love at First Fight
Christel Dewynter for Hippocrates
Frederic Baillehaiche for Party Girl
Fabrice Rouad for Saint Laurent
Nadia Ben Rachid for Timbuktu
Best Sound
Pierre Andre and Daniel Sobrino for Girlhood
Jean-Jacques Ferran, Nicolas Moreau, Jean-Pierre Laforce for Bird People
Jean-Luc Audy, Guillaume Bouchateau, Niels Barletta for Love at First Fight
Nicolas Cantin, Nicolas Moreau, Jean-Pierre Laforce for Saint Laurent
Philippe Welsh, Roman Dymn, Thierry Delor for Timbuktu
Best Animated Film
Le Chant de la Mer
Jack and the Cuckooclock Heart
Miniscule
Best First Film
Love at First Fight by Thomas Cailley
Elle l'Adore by Jeanne Herry
Fidelio by Lucie Borleteau
Party Girl by Marie Amachoukeli, Claire Burger and Samuel Theis
May Allah Bless France by Abd al Malik
Best New Actress
Lou de Laage for Breathe
Louane Emera for The Belier Family
Josephine Japy for Breathe
Ariane Labed for Fidelio
Karidja Toure for Girlhood
Best New Actor
Kevin Azais for Love at First Fight
Ahmed Drame for Les Heritiers
Kirill Emelyanov for Eastern Boys
Pierre Rochefort for Going Away
Marc Zinga for May Allah Bless France
Best Foreign Film
Winter Sleep, dir: Nuri Bilge Ceylan
Boyhood, dir: Richard Linklater
12 Years A Slave, dir: Steve McQueen
Deux Jours, Une Nuit, dirs: Jean-Pierre and Luc Dardenne
Mommy, dir Xavier Dolan
Ida, dir: Pawel Pawlikowski
The Grand Budapest Hotel, dir: Wes Anderson
Best Short Film
Aïssa
La Femme De Rio
Inupiluk
Les Jours D'Avant
Où Je Mets Ma Pudeur
La Virée A Paname
Best Animated Short
Bang Bang!
La Bûche De Noël
La Petite Casserole D'Anatole
Les Petits Cailloux