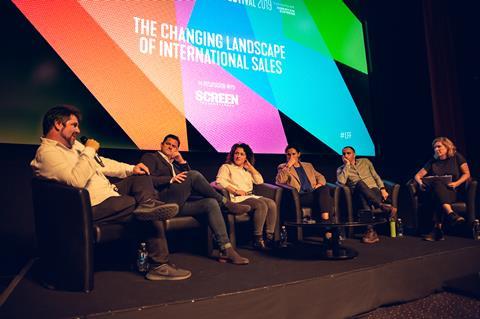 Independent distributors increasingly need to pre-buy films or risk losing out to streaming platforms, according to top international sales agents.
"Platforms are coming on board earlier. This is waking up some distributors that they need to pre-buy to compete," said Carole Baraton, co-founder of French sales company Charades.
"Specifically, in the US, independent distributors used to be comfortable enough to not have to pre-buy. They realise now they have to come on board earlier if they don't want all the exciting films to be swept from the market by the platforms."
The sales exec and former Wild Bunch veteran was speaking on a panel titled 'The Changing Landscape Of International Sales' at the BFI London Film Festival, moderated by Melanie Goodfellow, Screen's senior correspondent for Europe and the Middle East.
Baraton was joined by Ryan Kampe, president of US-based Visit Films, who said, "Now everybody realises the value of the worldwide deal. Where you don't have box office or festivals or sales in 40 countries, you say, 'I did this deal with Netflix for the world for $1.2m on my movie' – it's really easy to have that conversation.
"It may be harder to define your career by benchmarks; but worldwide, you're not winning the Olympics, but you're placing in the Olympics no matter what. You've hit the top level of worldwide distribution."
Thania Dimitrakopoulou, head of sales at The Match Factory, spoke of the company's experience with three titles – Felix van Groeningen's Belgica; Alice Rohrwacher's Happy As Lazzaro; and Lukas Dhont's Girl, all three of which were picked up by Netflix for various significant territories.
Of the Belgica deal, she said, "Netflix was quite fresh at the time. That was a long conversation we had with the filmmaker, to explain what was going to happen. Now I think filmmakers are more knowledgeable."
She also noted the value of a Netflix deal in increasing the visibility of Belgian filmmaker van Groeningen. "At the time for Felix, it was important, because then he made Beautiful Boy," she added. "He was already preparing to make something in the US. Having a film on Netflix gave him much more visibility than going country-by-country in the traditional way."
For well-reviewed Cannes 2018 titles Happy As Lazzaro and Girl, "there was already interest and offers on pre-sales when Netflix came in. If nobody else is moving then Netflix comes in. It's a much more obvious decision than when you have traditional distributors offering to welcome the film."
"We found a way of working with Netflix, giving them the American continent for both films. Then we could sell the rest of the world and the films could have the traditional release."
Pre-sell or not pre-sell
Also on the panel were Sébastien Beffa, partner at French sales company Playtime; and Dave Bishop, CEO of the UK's Protagonist Pictures.
On the subject of pre-selling films, Beffa noted a market fluctuation and said, "When some distributors have been confronted in bidding wars in Cannes, the next year they tend to pre-buy."
"If some distributors have pre-bought the previous year and the results were volatile, they tend not to pre-buy. So you have shifting modes."
Bishop said creating its own content has given Protagonist a welcome measure of control in an unstable market. "We don't have to sell in the traditional manner, we don't have to pre-sell, we can have direct relationships with the platforms or studios," he stated.
The panel also touched on the UK's impending departure from the European Union. For sales agents, Baraton said, "The only way is to not over-anticipate – to go on discussing as we have been doing in the past."
However, Dimitrakopoulou warned, "UK distributors have started getting very cautious already."
Bishop raised an issue relevant to Protagonist as a UK-based company. "One thing I'm more concerned about is my staff," he said. "We have a very diverse, particularly European staff. It's a real benefit to us to have staff from all over Europe who speak a number of different languages."