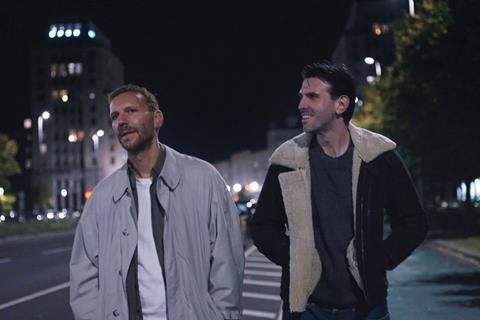 Berlin-based Salzgeber is to handle international sales for actor Fabian Stumm's feature directorial debut Bones And Names, which premieres in the Berlinale's Perspektive Deutsches Kino section.
A sensitive and humorous reflection on relationships, the film has been nominated for the Teddy Award, Compass-Perspektibe Award and Heiner Carow Prize.
Stumm, whose acting credits include Cate Shortland's Lore and Sebastian Meise's Great Freedom, directed the short Bruxelles in 2020 and the award-winning medium-length film Daniel a year later before developing Bones and Names as his feature debut.
"Everything happened in a very short period: I wrote the screenplay last summer and we decided to shoot in September and October without waiting to apply for film funding," Stumm said. "It was pretty tough going at times, but it was like passing through a little film school in just six months."
Stumm was fortunate that around 80% of his crew had worked with him on Daniel, including his DoP Michael Bennett. The cast were prepared to defer their fees, and support came from several sponsors and facility houses as well as friends.
As well as producing, directing and writing the screenplay with dialogues in German and French, Stumm also played one of the leads in a cast including Knut Berger, Marie-Lou Sellem, and Magnus Mariuson.
Theatre and film actor Berger appeared at last year's Berlinale in Natalia Sinelnikova's debut We Might As Well Be Dead, while German-French actress Sellem's credits range from Tom Tykwer's Winter Sleepers through Charlie's Angels to the Netflix series Freud. Mariuson was co-writer and star of director Maria Solrun's 2018 drama Adam and has recently been in the cast of the Das Boot TV series and the Disney series While You Were Breeding.
Stumm revealed that Bones And Names is only the beginning of him donning the director's hat for more feature-length projects in the future.
"I used the free time I had during the pandemic to work on new scripts and am now zeroing on one particular project with the working title of Mona which is an emotional revenge thriller with a female character at the centre," he explained.
"At the moment, the story is set in Hamburg because there were images of that city in my head when I was writing the screenplay."
While Stumm plans to keep developing projects through his own company Postofilm, he wants to use the attention Bones And Names will generate during the Berlinale to arrange meetings with production companies to discuss the Mona project.
After working without any public funding or broadcaster involvement in his debut feature, Stumm would welcome the opportunity to work with production companies who have experience of working in the German film funding landscape.
As to the question of whether he will both direct and act in his future projects, Stumm pointed out that he would like to continue doing this although it would depend on the particular project.
In Mona, for example, there could be a role for him but it wouldn't be one of leads as had been the case in Bones And Names.
"Writing and directing now have the same importance for me as acting. I really found it liberating [on my new film] to be directing and acting at the same time. I didn't feel any pressure or stress at having both of these roles."