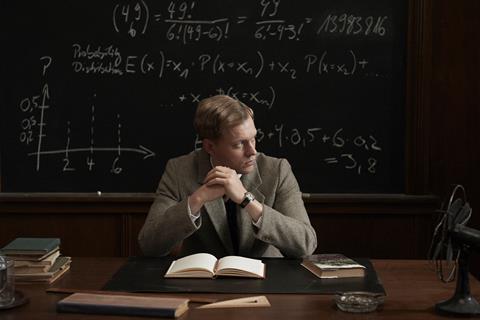 Samuel Goldwyn Films has acquired North American rights to Adventures Of A Mathematician, inspired by the life of the late legendary Polish-American scientist Stanislaw Ulam whose work contributed to the development of the hydrogen bomb as well as computers.
The acquisition is among a slew of pre-sales unveiled by Paris-based Indie Sales as it continues to tie up deals on the title during the AFM.
The film has also sold to France (Rezo), the Middle East and North Africa (Gulf Film), China (Huanxi Media Group), Russia, CIS and the Baltics (Rocket Releasing), Taiwan (AV Jet) and airlines (Encore Inflight). Munich-based Filmwelt has taken German, Austrian and Swiss rights.
The English-language drama is the second feature of German director Thor Klein, whose previous credits include teen mystery thriller Lost Place. Polish-French actor Philippe Tlokinski plays Ulam with support from Esther Garrel, Joel Basman and Sam Keeley.
Adapted from Ulam's eponymous autobiography, the film delves into the moral dilemma faced by European scientists at the dawn of the nuclear age.
Born into a wealthy Jewish Polish family in 1909, Ulam fled Poland on the eve of its invasion in 1939 by Nazi Germany for the US. There, he played a central role in developing the country's nuclear weapons alongside other legendary figures in the fields of science and mathematics such as Edward Teller and Jack Calkin.
The film is produced by Dragonfly Films, Zischlermann Fllmproduktion in Germany, Mirror Productions (Vita and Virginia) in UK and ShipsBoy in Poland. Co-producer is Erfftal Film.
The film world premiered at the Palm Springs International Film Festival in January and is being showcased in the UK's Amplify event, a national streaming festival run jointly by the Bath, Brighton, Cambridge and Cornwall film festivals which are taking place online due to the pandemic.