Films includes Juan Andrés Arango's X-Quinientos and William Vega's Sal.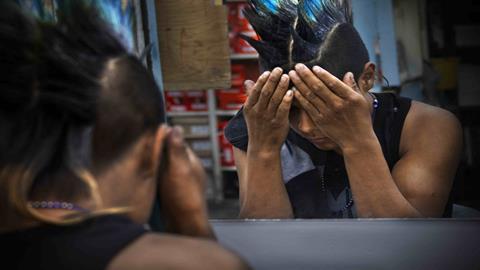 Scroll down for full list of projects
A total of 14 projects have been selected for the third Europe-Latin America Co-Production Forum, which will run Sept 22-24 during the San Sebastian Film Festival (Sept 19-27).
The films were chosen from a total of 181 projects submitted from 22 countries, including Argentina, Colombia and Sweden.
The projects include Sal, William Vega's follow-up to Cannes Directors' Fortnight title La Sirga. It will be produced by Andrea Estrada of Contravia Films with co-producers CineSud Promotion and Bredok Film Production.
The road movie centres on a man who takes a motorbike across Colombia to reach a village where his father was killed. After an accident en route, he does some soul searching while recovering from his injuries.
Another project is X Quinientos, set in Mexico, Canada and Colombia, and featuring three intertwining stories turn on individuals. Produced out of Colombia by Septima Films, co-production partners include Canada's Peripheria Productions and Mexico's Machete Producciones.
For the second consecutive year, the EGEDA Award for Best Project at the Europe-Latin America Co-production Forum 2014 will be presented. The Award comes with a cash prize of €10,000 ($13,400) and is sponsored by EGEDA, the Audiovisual Producer's Rights Management Association.
In addition, and as part of the festival's collaboration with the Ibermedia Programme, one project selected in the workshop to develop film projects from Central America and the Caribbean will also participate in the Co-Production Forum. This film is Álvaro Ponte's Puerto Rican film, Noli.
The Forum will run over three days to coincide with San Sebastian's Films in Progress event.
The filmmakers behind the projects will meet with industry professionals from around the world in a bid to secure co-producers, financial partners and sales agents; complete their funding; and ensure their international production and distribution.
Some of these projects will have the opportunity to continue progressing internationally with participation in the Ventana Sur market in Argentina and in the next edition of the Cannes Producers Network.
As a new feature this year, the festival will organise a Focus on Canada with Telefilm Canada. A delegation of 12 Canadian producers will attend San Sebastián to participate in the Co-production Forum and the other Industry Club activities.
In 2013, 461 one-to-one meetings were organised between project representatives and industry professionals, an increase on the 365 meetings held in 2012.
Nine of the 17 projects presented in 2012 have been completed, while three of the 16 presented in 2013 have been filmed. Shooting is expected to start on another six in the coming months.
SELECTED PROJECTS
Agosto (August)
Director: Armando Capó Ramos
Production Company: La Feria Producciones
Country: Costa Rica-Cuba
Animales domésticos (Domestic Animals)
Director: Andi Baiz
Production Company: Dynamo
Country: Colombia
Até o camino (Until the Way)
Director: Davi Pretto
Production Company: Tokyo Filmes
Country: Brazil
Chau Buenos Aires (Adiós Buenos Aires)
Director: Germán Kral
Production Company: Historias Cinematográficas
Country: Argentina-Germany
Entre perro y lobo (Wolfdoog)
Director: Irene Gutiérrez
Production Company: El Viaje Films
Country: Spain-Cuba
Fantasía
Director: Juan Pablo Richter
Production Company: Pucara Films
Country: Bolivia
La noche de Franco (Franco's Night)
Director: Bernardo Arellano
Production Company: Agrupación Caramelo Cinematográfica
Country: Mexico-Spain
Las elegidas
Director: David Pablos
Production Company: Canana
Country: Mexico
Marilyn
Director: Martín Rodríguez
Production Company: Maravillacine
Country: Argentina-Chile
Sal
Director: William Vega
Production Company: Contravía Films
Country: Colombia-Germany-France
Siete horas (Seven Hours)
Director: Chema Rodríguez
Production Company: Icónica Producciones
Country: Spain-Mexico
The Return
Director: Gorki Glaser-Müller
Production Company: Zentropa International Sweden
Country: Sweden
Walls (Muros)
Directors: Pablo Iraburu, Migueltxo Molina
Production Company: Arena Comunicación
Country: Spain
X Quinientos
Director: Juan Andrés Arango
Production Company: Séptima Films
Country: Colombia-Canada-Mexico
Ibermedia project (Not eligible for the award)
Noli
Director: Álvaro Ponte
Production Company: Quenepa Producciones
Country: Puerto Rico