A total of 13 new films will compete for the $67,000 prize.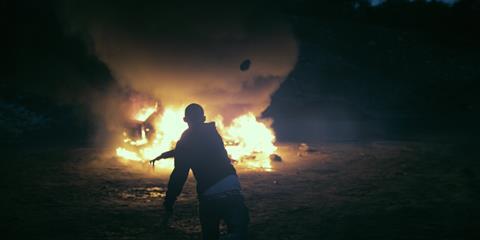 The San Sebastian Film Festival (Sept 19-27) has revealed the films that will make up its New Directors section and compete for an award worth €50,000 ($67,000).
The strand will feature 13 first or second works by new filmmakers. The titles include:
Chrieg
Simon Jaquemet (Switzerland)
On a boot camp for kids in the Swiss Alps, four delinquent teenagers have taken over. They have a mission and rush down to the city. Feverish nights full of violence and destruction. Their war. Against grown-ups. Against everything. Against Love.
In Her Place
Albert Shin (Canada - South Korea)
A mother and her teenaged daughter living on a rural farm in South Korea take in a mysterious woman from Seoul with the hopes of helping each other repair their damaged lives.
Cain's Children (Káin Gyermekei)
Marcell Gerő (Hungary - France)
Three boys, they all committed murder. After discovering their haunting faces and disturbing stories in a banned prison documentary from 1984, the filmmaker goes out to find them and discovers untold secrets and a Hungary he has never known.
Name Me (Kak Menya Zovut)
Nigina Sayfullaeva (Russia)
Two 17-year-old Muscovite girls, Olya and Sasha, are going to Crimea to meet Olya's father Sergey. At first girls have their fun. Little do they know that the innocent joke they invent will turn into great drama and change their lives forever.
Limbo
Anna Sofie Hartmann (Germany)
A small town in rural Denmark; teenager Sara and newly arrived teacher Karen grow a connection amidst projections, quiet expectations and daily life all around. Courage leads to disappointment and when an unexpected event occurs, Karen is left on her own.
The Mother of the Lamb (La Madre Del Cordero)
Rosario Espinoza, Enrique Farias (Chile)
Cristina, a 49 year old woman, has spent her entire life caring for her mother Carmen. She re-encounters Sandra, a liberal and open-minded ex-colleague who will show her friend other ways to live.
Modris
Juris Kursietis (Latvia - Greece - Germany)
Unable to deal with her teenage son, the boy's mother turns him in for a small crime. But a teenager's life cannot handle police probation. Based on true events.
A Moonless Night (Una Noche Sin Luna)
Germán Tejeira (Uruguay - Argentina)
On New Year's night, three lonely night owls arrive in a small town way out in the Uruguayan countryside, where they will have the opportunity to change their destiny. A film about love, loneliness, opportunities and the passing of time.
It´s Not Vigil (No Todo Es Vigilia)
Hermes Paralluelo (Spain - Colombia)
In his new film, Hermes Paralluelo tells a love story. A love story that begins when its lead characters, Antonio and Felisa, have been together for over 60 years and their delicate health means they can no longer care for one another. The prospect of having to move into a home for the elderly looms menacingly on the horizon. The film portrays love in old age, nights of fitful sleep over the worry of loneliness, death and separation from a loved-one. Fear of leaving life in the hands of others and of losing independence.
Toto And His Sisters (Toto Si Surorile Lui)
Alexander Nanau (Romania)
From Emmy-Award winning Romanian director Alexander Nanau comes an amazing family love story. Totonel (10) and his sisters are growing up in a poor city suburb, waiting for their mother to come home from prison.
The Silly Ones and the Stupid Ones (Los Tontos y Los Estúpidos)
Roberto Castón (Spain)
Second feature by Roberto Castón, whose movie Ander competed in the Panorama Section at Berlin in 2009. Mario, Paula, Miguel and Lourdes run into one another while looking (some more than others) for a way out of a life they don't like. The situation forces them to make decisions, listening either to their hearts or to the fear of change. They are accompanied in the process by the film's director, played by Roberto Álamo.
The Lesson (Urok)
Kristina Grozeva, Petar Valchanov (Bulgaria)
In a small Bulgarian town, Nadezhda, a young teacher, tries to find out which of her students is stealing in class, so that she can teach them the difference between right and wrong. But when she finds herself in debt to moneylenders, will she know the right road to take? What happens when an honest person turns into a criminal?
Vincent (Vincent n'a pas d'écailles)
Thomas Salvador (France)
Vincent is not just a young man among others. His strength, reflexes and agility increase when in contact with water. There he meets Lucie, falls in love, and shares his secret with someone for the first time…