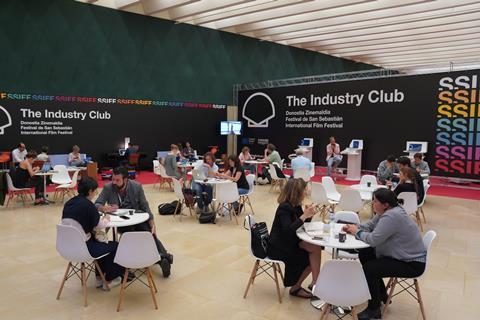 As the 69th edition of the San Sebastian Film Festival gets underway today (September 17), the festival boasts an increased in-person presence as well as extending last year's hybrid approach to its industry activities.
All activities will take place in-person (apart from, appropriately enough, a talk on artificial intelligence and digital transformation on September 22, which is online only), with major events also being live-streamed.
Once again this year, the industry department – headed by Saioa Riba – will have its hub in the Kursaal centre, hosting the Industry Club space, a meeting and working space for accredited industry guests.
This year's industry highlights include a conference on identities and diversity taking place on September 18, with panelists including writer and actor Bob Pop, Astremedia's head of fictional content Diego del Pozo, filmmakers Adrián Silvestr and Claudia Costafreda plus casting directors Eva Leira and Yolanda Serrano; a presentation hosted by the Spanish Ministries of Culture, Telecommunications and Economy on plans to boost Spain's audiovisual sector on September 22; and the industry awards, also on September 22. All of these events will be live-streamed.
The annual Europe-Latin America Co-Production Forum marks its 10th year in operation, and will run in-person from September 20-21, with September 22 reserved for online meetings. This year, it is moving from the San Telmo Museum to the Industry Club space in the Kursaal centre. Fourteen projects have been selected to partake, with a particularly strong Argentinian presence, including Paula Hernández's El Viento Que Arrasa and debut Almenia from Maria Zanetti.
The San Telmo Museum assembly room will house the Thought and Discussion area. Subjects addressed under the 'Thought and Discussion' umbrella include a roundtable on how the ideas developed during the Covid-19 crisis can drive a new era for film publishing and distribution (September 20), hosted by Europa Distribution; a roundtable addressing the challenges facing LGBTIQ+ cinema in Latin America (September 21); and the European Film Forum on September 20, co-organised with Creative Europe Media and comprising of two panels.
The first panel will meet to discuss the ecological progress of the screen industries in Europe, and will be made up of head of the European Green Screen project (Interreg Europe) in Promálaga, Spain, Luz Molina; vice presdient of the European Producers Club and producer and partner of Spain's Morena Films, Álvaro Longoria; co-founder of Fiction Changing the World and Spain's Mrs. Greenfilm, Paloma Andrés Urrutia; and sustainability consultant, development executive and co-founder at Hungary's Green Eyes Production, Zsofia Szemeredy.
The second panel will address the use of data and digital technologies in the sector. Speaking will be Niels Alberg, the co-founder and CEO of Denmark's Publikum, a company specialising in audience reactions to films; Emilio Sánchez Zaballos, the manager of video and online platforms at Spain's Atresmedia; and Oliver Fegan, the co-founder and CEO of Ireland's Usheru, a company aiming to use data to transform the movie marketing model.
The forum will also be available for live streaming.
This year's Focus On initiative is dedicated to the country of Georgia, with a presentation of the incentive programme of the Georgian National Film Center by the Georgian Film Commissioner, David Vashadze, on September 20, in the San Telmo Museum assembly room. The incentive programme offers a cash refund of 20-25% on the expenditure made in the country.
Taking place in-person in the Tabakalera centre will be a production discussion as part of the 2deo Serieak programme (September 19), with the panel comprising of co-founder and editorial director of Filmin Jaume Ripoll, head of original series development at Movistar+ Susana Herreras, vice president and commissioning editor of original programming at HBO España Miguel Salvat and head of original productions at Amazon Studios María José Rodriguez.
Also taking place in the Tabakalera centre will be the Zinemaldia and Technology conference, which is being live-streamed, with Spain, France and Denmark represented in the five companies set to pitch in the StartUp challenge on September 23.
Works In Progress
The works in progress showcase (WIP) will run as an in-person activity and is again divided into European and Latin American projects, from September 20-22 at the Principe Cinemas. The selected films will also be available for online viewing in the festival library from immediately after their cinema screening and until Saturday 25. As a new feature this year, attendants will have to book WIP Latam and WIP Europa tickets using the festival's ticket booking system and participants will be required to show their industry accreditation for access to the screening.
The European projects taking part are Nina (Rus-Geo), A Hero Of Our Time (Turkey), Lucky Girl (Ukr-Ger), A Long Break (Geo), Mission To Mars (Sp) and Carbon (Republic of Moldova-Rom).
In WIP Latam will be Octopus Skin (Ecuador-Greece-Mex-Ger), Pornomelancholia (Arg-Bra-Fr-Mex), Daughter Of Rage (Nicaragua-Mex-Neth-Ger-Fr-Nor), A Male (Col-Fr-Neth-Ger), Dos Estaciones (Mex-Fr-US) and Vicenta B. (Cuba-Col-Nor-Fr).