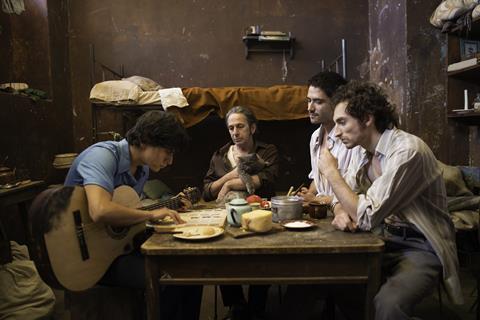 The line-up for the Horizontes Latinos section at this year's San Sebastián International Film Festival (September 20-28) includes films that have won awards at Cannes and Sundance.
The strand will showcase 15 Latin American productions of which seven are first or second works. All the titles (except Jayro Bustamante's La Llorona) are competing for the Horizontes Award, which comes with a €35,000 ($39,121).
Among this year's line-up is César Díaz's Critics Week title Our Mothers, which won the Camera d'Or for best first film at Cannes. There are also two Sundance award winners: Colombian director Alejandro Lande's buzzy survival thriller Monos, which won the Special Jury Award in Park City before going on to screen in the Berlinale's Panorama, and Lucía Garibaldi's The Sharks, winner of the best director prize in the World Cinema Dramatic competition.
The section will open with Chilean director Patricio Guzmán's The Cordillera Of Dreams, a Cannes special screening which won the L'Oeil d'Or award for best documentary. Further Cannes special screenings include Gael García Bernal's second feature as a director Chicuarotes, which follows two young adolescents as they try to shake off the shackles of their country's poverty and violence, and Juan Solanas's documentary Let It Be Law, about the struggle of legal abortion in Argentina.
Horizontes Latinos line-up
The Cordillera of Dreams (Chile) - opening film
Dir. Patricio Guzmán
Tremors (Guat-Fr-Lux)
Dir. Jayro Bustamante
La Llorona (Guata-Fr) - closing film
Dir. Jayro Bustamante
August (Cuba-Costa Rica-Fr)
Dir. Armando Capó
Spider (Chile-Arg-Bra)
Dir. Andrés Wood
The Moneychanger (Uru-Arg-Ger)
Dir. Federico Veiroj
Again Once Again (Arg)
Dir. Romina Paula
The Prince (Chile-Arg-Bel)
Dir. Sebastián Muñoz
La bronca (Peru-Col)
Dir. Daniel and Diego Vega
The Sleepwalkers (Arg-Uru)
Dir. Paula Hernández
The Sharks (Ur-Arg-Sp)
Dir. Lucía Garibaldi
Monos (Col-Arg-Neth-Ger-Swe-Uru)
Dir. Alejandro Landes
Our Mothers (Fr-Bel-Guat)
Dir. César Díaz
Chicuarotes (Mex)
Dir. Gael García Bernal
Let It Be Law (Arg-Uru-Fr)
Dir. Juan Solanas