Competitive strand will feature 14 films, including Jauja starring Viggo Mortensen.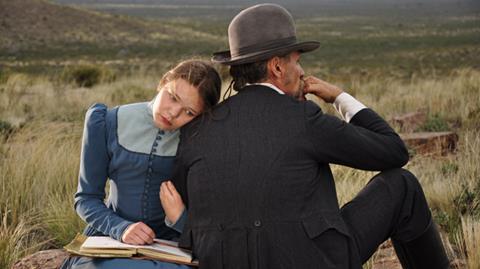 A total of 14 titles have been selected to compete in Horizontes Latinos at the 62nd San Sebastian Festival (Sept 19-27).
The strand comprises productions from Argentina, Mexico, Chile, Brazil, Uruguay and Colombia that have competed or screneed at international festivals but have yet to be seen in Spain.
The selected films compete for the Horizontes Award, decided by a jury and including a prize of €35,000 ($46,000), of which €10,000 ($13,000) goes to the director of the winning film, and the remaining €25,000 ($33,000) to its distributor in Spain.
Casa Grande
Fellipe Barbosa (Brazil - USA)
Set within Rio's social elite, a teenage boy struggles to escape his overprotective parents as his family spirals into bankruptcy. This second movie by Brazil's Fellipe Barbosa was presented in the Official Selection at the Rotterdam Festival.
Ciencias naturales (Natural Sciences)
Matías Lucchesi (Argentina - France)
Presented in the Generation section of the Berlin Festival and winner of the Award for Best Ibero-American Film at the Guadalajara Festival, the first film by Matías Luchesi revolves around a girl who, starting to become a woman, feels the profound need to discover her true identity. She does not know who her father is and she is determined to find him.
Dos disparos (Two Shots Fired)
Martín Rejtman (Argentina - Chile - Netherlands - Germany)
The Argentinian filmmaker Martín Rejtman competed at the Locarno Festival with his latest film. Early one morning, 16 year-old Mariano finds a gun in his house and proceeds to shoot himself twice without giving it a second thought. He survives. Dos disparos (Two Shots Fired) is the tale of how Mariano and his family react to the situation.
Gente de bien
Franco Lolli (France - Colombia)
The feature film debut of Franco Lolli, following several short films to have won awards at several festivals, was presented in the Critics' Week at Cannes. Ten year-old Eric finds himself almost overnight living with Gabriel, his father, who he barely knows. Maria Isabel, the woman Gabriel works for as a carpenter, decides to help and invites them both to the country to spend Christmas with her and her family. However, she fails to foresee all the consequences of taking the child under her wing.
Güeros
Alonso Ruizpalacios (Mexico)
A road movie and coming of age comedy which pays homage to the French new wave, winner of Panorama's First Feature Award in Berlin Film Festival and of Best Cinematography Award and Special Jury Mention in Tribeca Festival. Since the teenager Tomás is clearly too much of a handful for his mother, she packs him off to stay with his big brother who is studying in Mexico City.Tomás has brought a cassette along with him; the tape is part of his father's legacy and contains the music of Epigmenio Cruz. When the trio learns that their idol is in hospital fading fast and alone, they set off in their rusty heap of a car to pay their last respects to this one-time rock star.
Historia del miedo (History of Fear)
Benjamín Naishtat (Argentina - France - Germany - Uruguay - Qatar)
Following its screening in Films in Progress at last year's San Sebastian Festival, Benjamín Naishtat's first film competed at the Berlin Festival and won Best Film at the Jeonju Festival. When a heat wave grips the suburbs, blackouts and waves of pollution push the social order to the brink of collapse, forcing each inhabitant to confront his own motives, instincts and fears.
Jauja
Lisandro Alonso (Argentina - USA - Mexico - Netherlands - France - Denmark - Germany)
Viggo Mortensen stars in a film by Lisandro Alonso that competed in the Un Certain Regard section at the Cannes Festival and won the FIPRESCI Award. In 1882, Captain Dinesen arrives in Patagonia from Denmark with his 15 year old daughter Ingeborg to take up an engineering post with the Argentinian army. When Ingeborg falls in love with a young soldier and runs away with him, the Captain ventures into enemy territory to find the couple. A solitary quest that takes us to a place beyond time.
La princesa de Francia (The Princess of France)
Matías Piñeiro (Argentina)
Matías Piñeiro returns to his reflections on the theatre world in this competitor in the Official Selection of the Locarno Festival. A year after his father's death in Mexico, Víctor returns to Buenos Aires with a job for his former theatre company: to make a Latin American series of radio dramas by recording a pilote episode of the last play they put on together.
La Salada
Juan Martín Hsu (Argentina - Spain)
The winning film of the Films in Progress Industry Award at last year's Festival is a mosaic of experiences for new immigrants in Argentina. Three tales of people from different races who struggle with loneliness and alienation during "La feria de La Salada".
La tercera orilla (The Third Side of the River)
Celina Murga (Argentina - Germany - The Netherlands)
The Argentinian director Celina Murga competed in Berlin's Official Selection with this film focused on the seventeen-year-old Nicolas, who lives with his mother and younger siblings in a small provincial city. When his entranged father returns to his life, tensions rise between father and son. Nicolas realizes he has to make radical choices for his own future.
Matar a un hombre (To Kill a Man)
Alejandro Fernández Almendras (Chile - France)
The third film from Chile's Alejandro Fernández Almendras participated in Films in Progress last year and has won awards at several international festivals, including Sundance and Rotterdam. Jorge, a hardworking man, is muggled by Kalule, a neighbourhood delinquent. Jorge's son, in an attemp to defend his father, is shot by Kalule for what Kalule is sent to prision. When he is released, only wants one thing: revenge.
Praia do futuro / Future Beach
Karim Aïnouz (Brazil - Germany)
A love story directed by Karim Aïnouz which competed in the Official Selection at the Berlin Festival. Donato works as a life guard patrolling the spectacular but treacherous Praia do Futuro beach. When he dives into the sea after two men caught in the undercurrent, he saves Konrad, a German vacationing in Brazil, but Konrad's friend is lost to the sea. While waiting for the body to resurface, a bond grows between donato and Konrad and the initial sexual sparks give way to a deeper,emotional connection. Winner of the Sebastiane Latino Award.
Refugiado
Diego Lerman (Argentina - Colombia - France - Poland - Germany)
Presented at the Directors' Fortnight in Cannes, the latest film from Diego Lerman opens when Matías, a 7 year-old boy, finds his mother, Laura, unconscious on the floor on coming home from a birthday party. When Laura comes round, she decides to flee with her son to a shelter for battered women. Seen through the eyes of Matías, we follow their escape and the way everything he knew turns into danger, while Laura looks for a safe place to live.
Ventos de Agosto / August Winds
Gabriel Mascaro (Brazil)
The arrival to a small coastal village in Brazil of a researcher registering the sound of the trade winds and a surprise discovery take Shirley and Jeison on a journey that confronts them with the duel between life and death, loss and memory, the wind and the sea. A first film by Gabriel Mascaró, winner of a special mention at the Locarno Festival.
Made in Spain
The festival has also revealed its Made in Spain section, spotlighting some of the best Spanish productions of the year.
10.000 Km (Long Distance)
Carlos Marques-Marcet (Spain)
Winning film of four awards at the Málaga Festival, including Best Film. Alexandra and Sergi are a couple from Barcelona who are thinking about having a baby when she receives a professional offer to work in Los Angeles for a year. Trusting in the strength of their relationship, they decide to postpone their plans and take up the challenge.
Ártico (Arctic)
Gabriel Velázquez (Spain)
A film that won a special mention in the Generation section of the last Berlin Festival. Jota and Simón are two "quinquis" aged 20 who wander carelessly out into the street every day to get by as they can with whatever comes up. But apart from their thefts, their wheelings and dealings, something else twists their guts. Both want something they don't have.
Carmina Y Amén
Paco León (Spain)
Sequel to Carmina o revienta (Carmina or Blow Up), again directed by Paco León. When her husband dies suddenly, Carmina convinces her daughter María not to register the death until two days later so that she can collect the double pay packet he had pending. For two days they hide the body and pretend not to grieve in the everyday life of a block of flats in a poor part of Seville.
Ciutat Morta (Dead City)
Xavier Artigas, Xapo Ortega (Spain)
A non-fictional film winner of the Silver Biznaga for Best Documentary at the Málaga Festival. In the case known as '4F', a group of youngsters landed in jail, accused of attempting to murder a local policeman in Barcelona. They denounced torture and abuse. One of the girls finally took her own life to prove her innocence.
Hermosa Juventud (Beautiful Youth)
Jaime Rosales (Spain - France)
In his latest film, premiered in the Un Certain Regard section in Cannes, Jaime Rosales tells the tale of Natalia and Carlos, two 20 year-olds in love who struggle to get by in today's Spain. Their limited resources prevent them from getting ahead as they would like to. They have no great ambitions because they have no great expectations. To earn a bit of money, they decide to shoot an amateur porn movie.
Ocho Apellidos Vascos (Spanish Affairs)
Emilio Martínez-Lázaro (Spain)
The biggest box-office hit in the history of Spanish cinema. Rafa, Andalusian to the bone, has never had to put a foot out of his beloved Seville to get the things he loves most in life: sherry, hair gel and women. Until one day everything changes with the appearance of the first woman to resist his charms.
Open Windows
Nacho Vigalondo (Spain - Usa)
The latest film by Nacho Vigalondo is a thriller starring Elijah Wood and Sasha Grey. Jill, the most exciting actress of the day, refuses to honour a dinner date with Nick, a fan and winner of an Internet contest. To make up for it, a guy called Chord will help Nick to follow the actress's every move from his laptop.
Sobre La Marxa (The Creator Of The Jungle)
Jordi Morató (Spain)
This is the tale of the man who created a jungle beside the motorway. In it, he built wacky constructions that he proceeded to burn to the ground, only to build them over and over and again for decades. A documentary presented at the Locarno and Málaga festivals.
Stella Cadente (Falling Star)
Lluís Miñarro (Spain)
Lluís Miñarro's fiction debut competed in the Official Selection at the Rotterdam Festival. Tale of the Spanish adventure of Amadeo of Savoy, a brilliant shooting star who set about trying to modernise an "impossible" country. The film reflects on the futility of power and the difficulty of appreciating beauty.
The Food Guide To Love
Dominic Harari, Teresa De Pelegrí (Spain - Ireland - France)
A delicious romantic comedy set in Dublin about a popular Irish food writer and the decided Spanish woman who inspired him to heed his heart rather than his stomach. Oliver Byrne, a food journalist, meets Bibiana, an art curator. Is their romance a recipe for disaster, or has Oliver finally found the ingredients of true love?
Yo Decido. El Tren De La Libertad
(Spain)
A collective documentary portraying the protests following the recent draft bill restricting the right to abortion. On learning the news, a small group of women from Asturias takes action that prompts hundreds of thousands of people to travel from all over the country to Madrid by train, coming together in a massive demonstration and even reaching other capitals across the world.