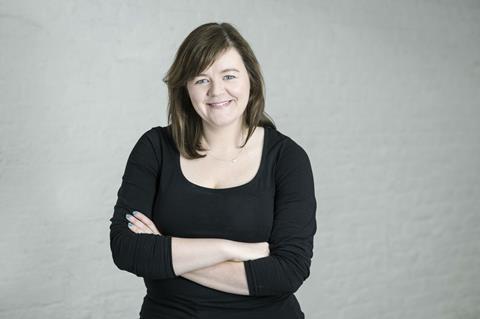 Sarah Dillon has been appointed development manager at the WRAP Fund, a major new initiative to support production industry in and attract projects to the West of Ireland.
Ms Dillon will take up the new role following ten years working as Production and Development Executive at the Irish Film Board, where she worked across various documentary, feature and animation projects.
The Western Region Audiovisual Producer's Fund - or WRAP Fund - was launched in November 2017 at the FÍS TV Summit in Galway City. An initiative of the Galway Film Centre and the Western Development Commission (WDC), it will run over a three-year period in association with local authorities.
The West of Ireland has hosted several prolific projects in recent years, including the award-winning Song Of Granite, a film about singer Joe Heaney directed by Pat Collins, TV's Moone Boy, feature films such as John Michael McDonagh's Calvary and Brendan Muldowney's Pilgrimage. Ivan Kavanagh's forthcoming Never Grow Old, starring John Cusack and Emile Hirsch, was also filmed in the region. Donegal's Malin Head and the Wild Atlantic Way was one of several Irish locations to feature in Star Wars: The Last Jedi.
The €2 million fund, encompassing Galway City and county as well as counties Clare, Donegal, Mayo, Roscommon, Sligo, is designed to encourage production in the film, TV, animation and gaming industry in the region. Údarás na Gaeltachta, the regional state agency responsible for the economic, social and cultural development of Irish-speaking regions of Ireland, is also on board.
The objective of the WRAP Fund is to facilitate the development of and investment in these industries, creating direct employment of 90 jobs. The fund aims to support 15 development projects, with the expectation that at least 20 per cent of these would secure resources to go into full production. Approximately another 10 internationally funded co-productions will also be supported. To be eligible for the fund, projects must demonstrate commercial potential and have a significant presence in the Western Region.
Celine Curtin, chair of Galway Film Centre, said: "We are delighted that we can announce that someone of Sarah's calibre has taken up this new position. She has a wealth of experience across feature film, television drama and animation and has been involved in multiple projects from script to screen, and we see her appointment as an important step forward in the development of the creative industries in the West."
Ian Brannigan, Chief Executive of the Western Development Commission, added: "We knew from when we first started exploring the idea of a regional support fund with Galway Film Centre that it was crucial that we find the right individual to take the helm. Sarah has a very broad skill set from assessing scripts to complex contracting, and has many existing strong relationships in the audio-visual industry which will serve her well in her new role. We wish her all the best and are very pleased that we can now say that the WRAP Fund is officially open for business."
Ms Dillon will take up her new appointment at the beginning of April and the first call for applications to The WRAP Fund will be announced in the coming months.