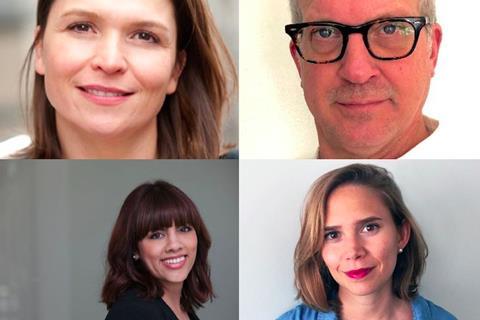 Charlotte Van Weede has been appointed president of international sales at Global Road Entertainment as chairman and CEO Rob Friedman brings in several senior executives from his days at Summit and Lionsgate.
Van Weede (pictured top left) replaces the outgoing Michael Rothstein and most recently consulted for the Netherlands Film Fund after four years as president of eOne Features. She reports to Global Road's president of international, Rodolphe Buet, and will be based in London.
The Global Road executive suite is boosted by the arrival of Brad Kembel (top right) as executive vice-president of distribution and operations, and Melissa Martinez (bottom left) as executive vice-president of international marketing, both of whom will be based in Los Angeles.
Kembel reports to Buet, while Martinez reports to Buet and president of worldwide theatrical marketing Jack Pan. Tatyana Joffe, Global Road's executive vice-president of international sales, has extended her contract and will report to Van Weede.
Sarah Genazzani (bottom right) also joins the team as director of international marketing based in London and reports to Martinez.
Friedman was expected to announce key hires in the run-up to Cannes, where the anticipation is Global Road will unveil its first new slate of product. The sales team brought nothing new to Berlin, although buyers heard in a presentation that Global Road plans to raise a $1bn production war chest over the next three years.
"I am incredibly fortunate to have such talented executives join our team," Buet said. "With Charlotte strengthening our international sales prowess, paired with Brad, Melissa, Sarah, and Tatyana, we will drive our position in the market by bringing consistent, quality content to audiences worldwide."
Van Weede worked at eOne from 2012 to 2016 and prior to that was head of sales at Protagonist Pictures and vice-president of international sales for Summit Entertainment.
Kembel most recently served as executive vice-president of international distribution at Lionsgate and Summit Entertainment. Prior to Summit he held manager positions at Sovereign Pictures and Cineplex Odeon Films.
Martinez arrives from Lionsgate and Summit and started her career at Gaga's Los Angeles office helping to promote films the company acquired to Japanese audiences.
For the past two years, Genazzani held the title of international marketing project manager at Gaumont in Paris. She began her career at Eagle Pictures in Milan and Rome, and has held positions at FilmNation in NYC and Studiocanal in Paris.
Rothstein becomes the latest former IM Global senior lieutenant to depart Global Road and leaves at the end of the month. As previously reported Cristina Garza has left Mundial, which is being reconfigured under the new hierarchy, while production chief Greg Shapiro – who worked with Friedman on The Hurt Locker – has left the executive ranks to work solely as a producer again and has several projects at Global Road, including The Rhythm Section.