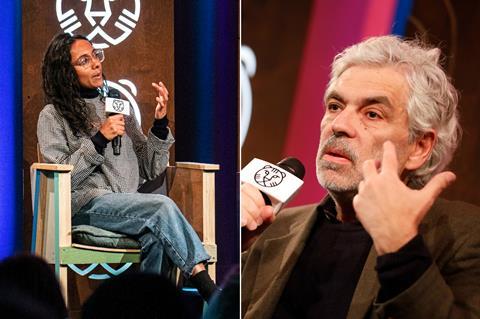 UK filmmakers Sarah Gavron and Anu Henriques, and Portuguese director Pedro Costa offered distinct interpretations of the international film industry in their respective masterclass sessions at International Film Festival Rotterdam (IFFR) this weekend.
Gavron, whose latest feature Rocks is playing at the festival, discussed a collaborative approach to filmmaking that, while acknowledging it would be unpopular with some, she felt has brought results. She co-created the film with Theresa Ikoko and Claire Wilson.
"I honestly think there's a way of doing creative decisions where you don't know who has made the decision," she said. "I love being in an environment when you listen."
Henriques, who is credited as an associate director on the film but who Gavron said was more of a "co-director", elaborated on the process.
"It's a story authored by the hundreds of women that worked on it, rather than just a few individuals," she said. "There was a board with each story beat on the wall, and piece-by-piece we went through and would ask questions about every beat, and the [seven lead cast] girls would say 'no I would never do that', or 'that doesn't feel right' or 'actually what about this'. And so that made them, from the very initial stages, part of the story process. It couldn't have been built without them."
Rocks launched in Toronto 2019 and is released in the UK on Friday, April 10 through Altitude.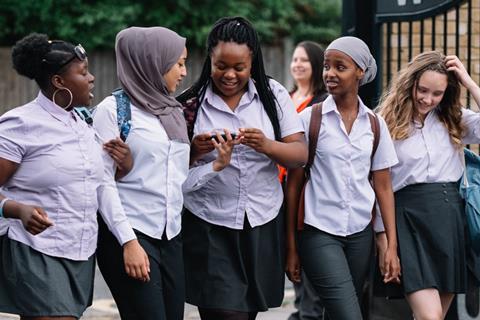 On her aspirations for the release, Gavron said, "We hope it gives birth to other storytellers. The whole intention was to do something that went beyond the film itself, and was an experience for lots of young people - including all the supporting artists you see in the background, many of whom were in the workshops - where they could look behind the camera and think 'I could be a cameraperson'."
"The process is as important as the story," said Henriques. "It showed the possibilities of alternative storytelling methods, alternative characters at the centre. Especially for young black and brown women. The mark of whether this film has been worth doing is what happens next."
"These stories exist and they're not hard to find, but the gatekeepers need to do the work to fund and support and create infrastructures that mean these are normal."
Gavron and Henriques also appeared on a live recording of the Girls on Film podcast on Friday, January 24, alongside panellists Dana Linssen, IFFR programmer, critic Lauren Murphy, and host Anna Smith.
Differing viewpoints
The tone of Costa's masterclass was very different, as noted by an audience member in the Girls on Film recording afterwards.
The director, who has directed nine features over a 30-year career, appeared in the IFFR programme for the 13th time, with his 2019 feature Vitalina Varela.
He began his talk saying "I'm not sure if we know what we are doing today" in filmmaking, and wryly joked with the audience, "you're not going to make films, I hope – there are enough films in the world, please don't do more."
"The things that are around filmmaking and films and getting money for films today are obnoxious – there's no other word for it," continued Costa.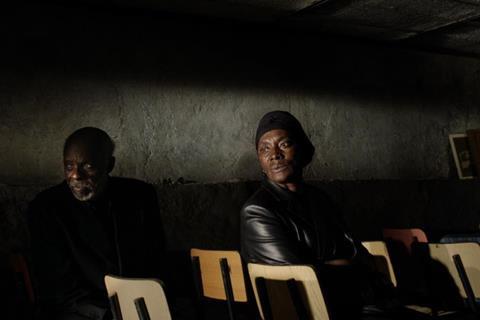 He regularly returned to the topic of a perceived decline in the quality of cinema, saying "I think we are weaker than our fathers" and "most films are bad today because they are spontaneous. Spontaneity is a big danger."
He also reserved his ire for sales agents – "obnoxious" – and film festivals themselves – "they are very controlled, they are very corrupt."
Costa criticized the blurring of lines between job roles in the industry. "Younger guys than you and me now – producers, sales agents – they are almost artists. They are intellectuals. People that are on the side of production and distribution are filmmakers like you. There's a sort of camaraderie, complicity, that changed everything."
The topic of plurality of voices has risen across the IFFR programme, including at the Reality Check industry conference focusing on 'originality' on Sunday 26; and at The Tyger Burns talk on Saturday 25, where established directors Annette Apon, Cecilia Mangini, Raquel Chalfi and Mette Knudsen discussed the changing situation for female filmmakers across their careers.
IFFR closes on Sunday, February 2 with Marielle Heller's A Beautiful Day In The Neighbourhood.