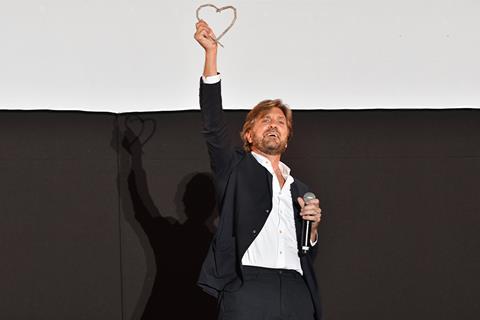 Ruben Ostlund advocated for "putting people in their context" through the communal experience of cinema, in opening the 28th Sarajevo Film Festival with his Palme d'Or-winning Triangle Of Sadness.
Receiving his honorary Heart of Sarajevo award, Ostlund said, "It's great to be back here, in a big room with an audience that is together. Today I was thinking about the telephone, and the way that we are holding the telephone when we are watching things. We hold it like this [he motioned a 'portrait' mode], and we are holding like this when we are taking pictures – not only on others but ourselves."
"It's a very individualistic way of looking at pictures and taking pictures and sharing pictures," said Ostlund, picking up one of the themes of his super-rich satire, which went on to delight the audience in Sarajevo's National Theatre. "But when we turn the phone like this [he motioned a 'landscape' mode], then we actually can fit more people in the frame. This is what cinema is about – it's about putting people in their context. And to put people into context is to talk about society.
"These phones, this individualistic scrolling, completely controlled by dopamine – it doesn't have the quality of a film festival, because a film festival is curated by someone who wants us to look on something in order to have something to discuss afterwards."
Ostlund was joined on stage by one of his cast members, Croatian-Danish actor Zlatko Buric, plus producer Philippe Bober.
Loznitsa makes war comparison
The ceremony also feted Ukrainian producer Sergei Loznitsa, a fellow Heart of Sarajevo recipient whose work is the subject of a retrospective at this year's festival.
Referencing the festival's origins during the siege in the 1990s, Loznitsa said, "Sarajevo Film Festival was a symbol of human tragedy, resilience and dignity."
"My country Ukraine today is also under a very brutal attack from a very brutal, violent aggressor. This is why this support and this award are so precious."
Ostlund proceeded to introduce a concurrent screening of Triangle Of Sadness in the Coca-Cola Open Air Cinema, where he was again presented with his award before a public audience.
An overcast sky throughout the afternoon had threatened to rain on the opening parade; however, the weather held until guests were seated, with the customary local crowds gathered with a mixture of inquisitiveness and excitement.
There are signs about town that the 28th edition of the festival has stepped it up from two pandemic-afflicted years, with a temporary TV studio broadcasting from outside the main National Theatre venue, and a greater visual presence for the festival around the town. Even staff for drinks brand Aperol, now ubiquitous on the festival circuit, could be seen setting up on the main street.
The evening ended with a party at the Hotel Europe attended by luminaries from the Balkan film industry and wider society.
The festival will play 51 films in its competitive section across eight days, running from August 12-19. Further honorary guests across the coming days include Paul Schrader, Jesse Eisenberg and Jasmila Zbanic, with masterclasses from Ari Folman and Michael Winterbottom.