Gallery: Joshua Oppenheimer, Mark Adams, The Other Side Of Hope cast attend opening night.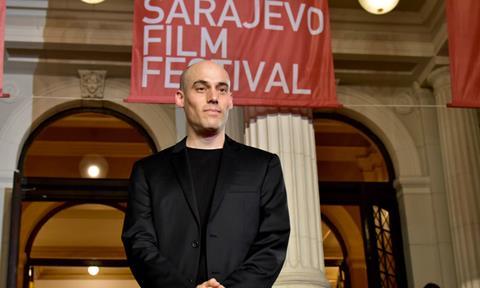 The 23rd edition of the Sarajevo Film Festival kicked off last night with a screening of Aki Kaurismaki's The Other Side Of Hope.
The event took place in two traditional festival locations: the city's National Theatre, and 3,000-seat Raifeissen Bank Open Air cinema.
Attendees on the night included documentary filmmaker Joshua Oppenheimer – whose credits include the Oscar-nominated The Act Of Killing and The Look Of Silence – who is in Sarajevo for the duration of the festival to participate in the True Stories Market, part of the CineLink programme.
Also in attendance were members of the 2017 jury, including Edinburgh International Film Festival artistic director Mark Adams (below).
Speaking at the opening night, Sarajevo director and co-founder Mirsad Purivatra promised a festival this year that will be bigger than ever before.
"I believe this year's edition will be remembered as the biggest and most successful one so far," he commented. "To achieve this goal, 700 employees and 300 volunteers from 30 countries around the world are working at the moment."
"It is a pleasure to welcome you in the name of the whole team of the Sarajevo Film Festival," Purivatra continued.
The evening was hosted by young Bosnian actress Amila Terzimehić, who broke out internationally in 2014 with a role alongside Pierce Brosnan in US-UK thriller The November Man.
It has been a Sarajevo custom for the last nine years to put a young actress in the spotlight at the festival's opening, and Tezimerhić follows in the footsteps of Zana Marjanović, Ermin Bravo, Adnan Hasković, Vanesa Glodjo, Marija Pikić, Fedja Štukan and Alena Džebo.
In her opening address, Tezimerhić celebrated the 100,000 cinema-goers and more than 2,000 accredited industry delegates that Sarajevo has hosted in its 23-year history.
After the screening of The Other Side Of Hope, the film's stars Sherwan Haji and Simon Al-Bazoon came to the stage to greet the audience and, in Bosnian, they said, "Good evening, thank you, we love you!"
The two actors, who play refugees from Syria and Iraq in the film, were met with rapturous applause when they stated that the city of Sarajevo has been through a remarkable transformation since the events of the 1990s siege.
Wrapping proceedings up, Al-Bazoon joked: "We love the city so much, we want to move here. Can anyone help us find an apartment?" The statement garnered more warm applause from the receptive crowd.
Sarajevo Film Festival runs August 11-18 this year.