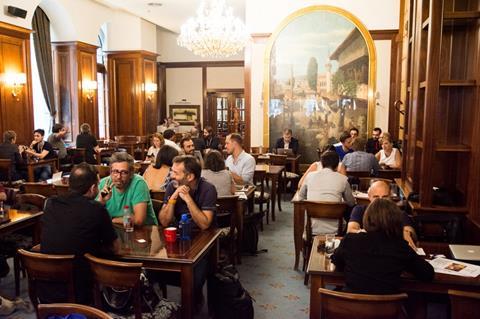 The Sarajevo Film Festival (August 11-18) has revealed the eight feature film and five television drama projects that will take part in the Cinelink Project Development Workshop.
The selection is made up of projects from first and second time directors from southeast Europe. All the projects are in the early stages of development and are now in the preparatory workshop in Sarajevo which runs from April 2-6. The workshop includes assistance from script consultants plus discussion on directing, production, financing and marketing. Masterclasses, lectures and one-on-one tutorials are also part of the event.
The eight projects include Summer Night, Half Past Ten from writer-director Ivana Mladenovic, who made CPH PIX award-winner Soldiers. Story From Ferentari; and Fiume O Morte! (River Or Death!), from Croatian writer-director Igor Bezinović.
CineLink Co-Production market:
Deskmate (Turkey) Dir-scr-prod: Ferit Karahan
Fiume O Morte! (France-Croatia-Slovenia) Dir-scr: Igor Bezinović. Prod cos: La Bête, Restart, Nosorogi
Chemistry (Romania) Dir-scr: Igor Bezinović. Prod co: Libra Film Productions
The Elegy Of Laurel (Montenegro) Dir-scr: Igor Bezinović Prod co: Meander Film
War And War (Greece) Dir-scr: Efthimis Kosemund Sanidis. Scr: Elizampetta Ilia Georgiadou. Prod co: Horsefly Productions
Summer Night, Half Past Ten (Serbia-Romania) Dir-scr: Ivana Mladenovic .Prod cos: Bas Celik, Hi Film Productions
Balaur (Romania) Dir-scr: Octav Chelaru. Prod co: deFilm
Safe Place (Croatia) Dir-scr: Juraj Lerotić. Prod co: Propeler Film
CineLink Drama:
Anatomy Of A Crime (Serbia) Created by: Vuk Ršumović, Ana Tomović. Prod cos: BaBoon Production and Work In Progress (WIP)
> The Death (Greater Than The Death) (Turkey) Created by: Arya Su Altıoklar, Samim Türkmen. Prod co: KısaKes Production
Theseus (Greece) Created by: Panagiotis Iosifelis. Prod co: Pnevma Productions
Frust (Bosnia and Herzegovina) Created by Srđan Vuletić
Bad blood (Serbia). Created by: Milutin Petrović. Prod co: This and That Productions