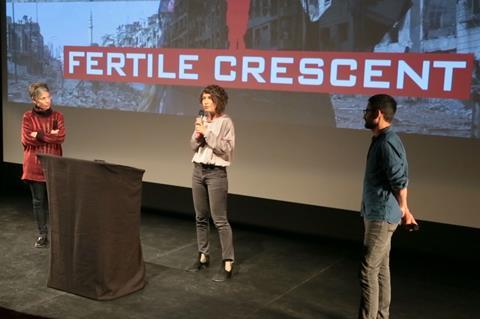 Sixteen projects from 15 countries have been selected for the ninth annual Series Mania CoPro Pitching Sessions (April 27-May 5). The event is taking place in Lille for the first time, relocating from Paris.
Christophe Riandee, the deputy chief executive of Gaumont, will head the jury. His credits include Narcos, Hemlock Grove and Hannibal.
The projects include Fixed from the UK's Origin Pictures, created by Liz Doran (The Secret Life Of Us) and currently at the treatment stage. The six-episode series will follow successful media consultant Flor Bentley, as the re-appearance of an old flame threatens her carefully managed reputation and existence. Origin Pictures founder and producer, and former BBC Films head David Thompson said, "We feel we have a format here to entice broadcasters from around the world, And we are delighted to be working with Zentropa Belgium to help bring this project to life."
According to Laurence Herszberg, founder and general director of Series Mania and its industry arm, the European Project and Talent Forum, the 16 projects were chosen from over 370 entries from 40 different countries.
Herszberg says she is expecting over 1,000 international TV series professionals to attend the event for pitching sessions, with the goal of finding appropriate financial partners, mainly through co­production deals or presale agreements.
Last year's prize was won by Israeli-French co-production Fertile Crescent, a spy thriller about the personal impact of the fight against terrorism.
Series Mania takes place just after the debut Canneseries Festival, which runs from April 4 to 11.
Series Mania projects
A Long Night in Paris (Isr-Fr) Production company: Keshet International
Atrocity (Neth) Fiction Valley
Black Port (Ice), Vesturport (In partnership with Copro Series of Berlinale Drama Series Days )
CCLXX (Ita/Spa), Palomar
Crimeshare (Nor), Anagram Norway
District Y (Isr), L. Benasuly Productions
Fixed (UK), Origin Pictures
Immunity (Ger), Jumpseat Filmproduktion/Real Film Berlin
Inheritance (Bel), AT-Prod
Layla (Fin), Vertigo
Pandemia (Fra), Indie Prod
Showtime (Fra), Everybody on Deck
Sixteen (Aus), Madman Productions Co.
The Lobbyists (Fra/Bel), Jérico TV
We Got This! (Swe), Jarowskij Sverige
With One Eye Open – Max Anger Series (Swe), Nice Drama