Gael Garcia Bernal and Agnes B. both receive the honorary Heart of Sarajevo.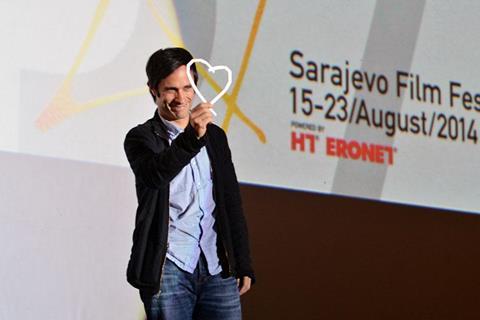 The Sarajevo Film Festival (Aug 15-24) launched its 20th edition on Friday night and staged a hat-trick of events to mark the occasion.
After the traditional welcome drinks reception on the Festival Square, festival director Mirsad Purivatra took to the stage of the city's Open Air Cinema in front of an audience of thousands to award Gael Garcia Bernal with the Honorary Heart of Sarajevo.
The ceremony was held ahead of a screening of the Mexican actor and director's breakthrough performance in Alejandro González Iñárritu's Amores Perros (2000).
"Since your appearance in Amores Perros, you have played different characters in many films that have made up part of our programme," said Purivatra.
"We admire you as an actor, a film director and a person who is trying to change the world. It is an honour to welcome you to Sarajevo and to celebrate our anniversary together. Part of Sarajevo belongs to you. Esta es tu casa [This is your home]."
Collecting his award, Garcia Bernal said: "Muchos gracias. It is very strange to be here because we are going to show Amores Perros, a film that was made when I was 19, which is 16 years ago. And it became this film that has been seen around the world.
"When we were making this film we never expected to show this film here, 16 years after with all you beautiful people. Hvala vam puno [Thank you very much]."
He added an apology for being jet legged and dressed in just jeans and a shirt, since his luggage had been lost en route from Mexico.
The filmmaker, who is also best known for roles in The Motorcycle Diaries, Bad Education and more recently No, will discuss his career in front of festivalgoers in Sarajevo on Saturday morning (Aug 16).
He will also meet with young filmmakers from the countries of southeast Europe to mark the opening of Sarajevo Talents - run in cooperation with the Berlinale.
Other opening events
A second ceremony marking the opening of the 20th SFF was held at the National Theatre, hosted by Bosnian-Herzegovinian actor Adnan Hasković and attended by festival guests, members of the public and previous recipients of the Honorary Heart of Sarajevo.
Ahead of a screening of the omnibus feature Bridges of Sarajevo, Purivatra was on duty again, this time to hand a Honorary Heart of Sarajevo to Agnes B.
The French fashion designer, who has also produced Harmony Korine movies including Spring Breakers, will present her debut feature Je m'appelle Hmmm… to the Sarajevo audiences on Saturday.
A long-time friend of the festival, Agnes B. also designed the Heart of Sarajevo that has provided the visual identity of the event since 2004.
In addition, the opening of the Kinoscope Programme took place at the Meeting Point Cinema with a screening of Benedikt Erlingsson's Of Horses and Men.
Competition
SFF will continue to run for a week, during which nine films will compete for the Heart of Sarajevo 2014, worth €16,000 ($21.000), including three world premieres, an international premiere and five regional premieres.
The jury is chaired by Hungary's Bela Tarr, who retired from directing films after the release of The Turin Horse in 2011.
Around 100,000 film fans are drawn to the Bosnian capital every year by the festival and this year's programme lists nearly 250 films from 60 countries.
Other guests this year include French director Michel Hazanavicius (The Artist) and his wife, actress Bérénice Bejo; Oscar-winning actress Melissa Leo (The Fighter); and British directors Mike Leigh and Michael Winterbottom.
The festival will close on Saturday, August 23, with Woody Allen's Magic in the Moonlight.
Mexican focus
The Amores Perros screening kicked off this year's partnership between SFF and Instituto Mexicano de Cinematografía (IMCINE) to bring Mexican films to the festival - part of an ongoing initiative by Sarajevo to expand its international reach.
Mexican film professionals have flown into Sarajevo to take part in industry activities at the CineLink Co-Production Market. An IMCINE representative will also give an overview of the current Mexican film industry.
In addition, Mexican project Operacion: Baby by José Luis Valle will be presented at CineLink; and Oscar-winning production designer Eugenio Caballero (Pan's Labyrinth) will present to Sarajevo Talents.
A selection of Mexican features have been programmed throughout the festival including Alonso Ruizpalacios's Gueros; José Luis Valle's Workers; Diego Quemada-Díez's The Golden Dream; and Nuria Ibáñez's The Naked Room.
In addition, Morelia International Film Festival (MIFF) director Daniela Michel - also a juror at this year's SFF - will present a series of Mexican shorts from MIFF's 2013 competition programme.